This Week's Biggest Losers 10/14/06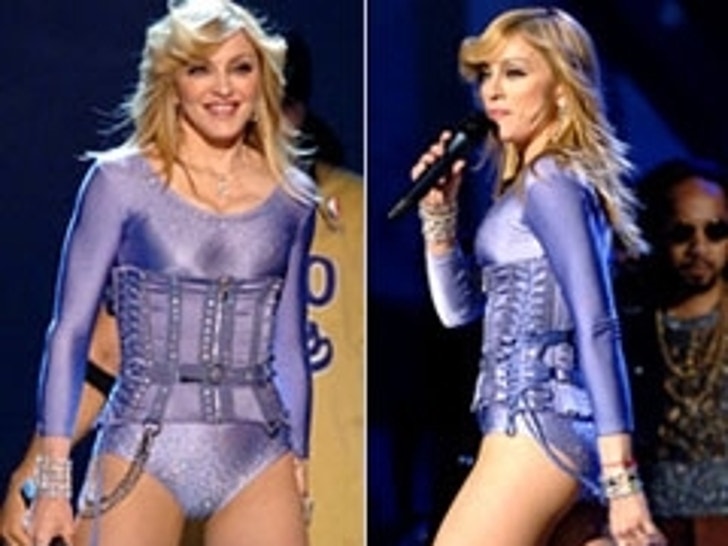 In Hollywood, there's nothing unlucky about Friday the 13th, a film franchise that has grossed more than $200 million. No, far scarier to celebrities than a hockey mask and machete is the combo of poor judgment and lightning fast Internet coverage.
Madonna: Look, there's nothing wrong with jumping on the Jolie bandwagon. But after adopting a fake British accent and a fake religion, it's a three-cricket-strikes-and-you're-out scenario when you then try to adopt a fake orphan. Turns out the tot picked out by the 48-year-old singer during her visit to the impoverished African nation of Malawi is not an AIDS orphan at all, but rather a boy currently beyond the financial grasp of his father and grandmother. Short of singing the national anthem for her hometown Detroit Tigers while strapped to a crucifix, this is – as the burgeoning op-ed columns attest – one of the more tasteless ways to set the stage for her second children's book, which comes out October 24th.

Sienna Miller: Granted, there aren't too many Oscar voters born in Pittsburgh, a city Miller affectionately dubbed "Sh*ttsburgh" in a recent Rolling Stone interview. But there are better ways to start a groundswell of Academy support (Miller has been touted as a possible Best Actress contender for her portrayal of Warhol gal Edie Sedgwick in the upcoming Factory Girl) than to protest being barred entry from a local tavern by exclaiming, "'I am Sienna Miller. I am a famous actress!'" Actually, in this country honey, you're better known for dating Jude Law and James Bond. So remember to carry that ID not just to get into places like Young's Tavern, but to also then settle friendly bets that you aren't just the nanny.
DMX: It was quite a week for our favorite wayward rapper. He got pulled over by the cops in his native Yonkers for another apparent speeding infraction; he took fellow wordsmith Jay Z to task for getting softened up by Beyoncé to the point of wearing flip flops; and the mother of his child slapped him with a defamation suit for claiming in an interview that it was she who raped him in his sleep back in 2003. For the man born Earl Simmons, it is indeed the "Year of the Dog... Again," and with other feathers in his Kangol cap like bailing on a planned USO tour of the Middle East, he might want to adopt a new onstage moniker – DuM aX.
Jennifer Young: The daughter of the late Oscar-winning actor Gig Young never got to play the hooker with the heart of gold. Or even just the hooker. Other than a small role in the execrable 1986 sequel Lightning, the White Stallion, her acting talents have been applied mostly to the task of pretending celebrity clients are great in bed. As one of four co-authors of the inevitable follow-up book Hooking Up: You'll Never Make Love In This Town Again Again, which after floating around town comes out officially next week, this 42-year-old real-life Charlie's angel is a vivid reminder that in the Zone, the fine line between casting call and girl on call can be found anytime, gratis, laid out on top of a slab of mirror.
Nick Nolte: With the admission this week by Mel Gibson that the first thing that went through his mind when being booked for DUI was the importance of not looking like Nolte in his mug shot, we're starting to think there might be a Mysteries of Pittsburgh curse taking shape (that's the movie the actor is currently shooting with the aforementioned Sienna Miller). Just when Nolte's people thought it was safe to browse the Internet, along comes a breakfast show confessional interview that re-caches the gazillion Web footprints of the actor's own, private 9/11 (circa 2002). Forget the two Oscar nominations; forget Vincent the Bear in Over the Hedge. The 65-year-old Nebraska native might as well just order the granite-chiseled epitaph now: 'I may be dead, but I still look better than my mug shot.'