L. Ron, Manson & Clinton -- Together at Last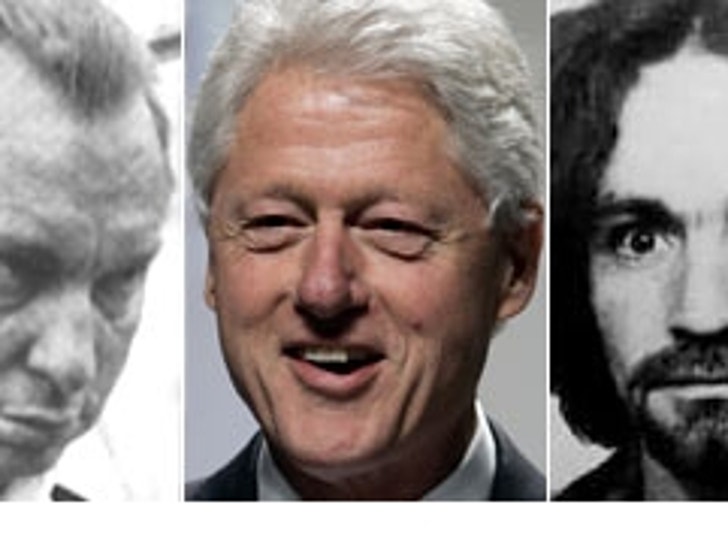 Mr. Scientology, Mr. Helter Skelter and Mr. Cigar are all "musicians" who made Blender's most recent compilation of irresistible trivia. "Don't Quit Your Day Jobs" is the most recent Blender list worth a gander. Athletes, cult leaders, corporate heads (aren't they sort of cult leaders?) and politicians are all cutting loose in their free time to kick out the jams. Of course, I didn't realize being a cult leader was a "job", but I guess it is hard work misleading tending to one's flock.
I had no idea David Koresh played guitar. I wonder if he got spurned by record labels the way Charlie Manson did? Imagine if Manson had gotten a deal...lives may have been saved and he'd be opening for the Beach Boys on reunion tours instead of headlining a jail cell in Corcoran State Prison. Imagine the supergroup those two could have formed?
Speaking of supergroups...how about 'swingin' Ron Artest and Roy Jones, Jr. Both are not only fighters (ok, only Jones is supposed to be fighting), but both rock the mic - at least in their minds. These would be rappers are prime examples of athletes with too much money and time on their hands. Of course, neither has as much green as some of the corporate board room types known to get up on stage. Microsoft co-founder - i.e. one super rich dude - Paul Allen apparently once trashed a glass guitar at the opening of Seattle's Experience Music Project. Very rock and roll! And, if you got that kind of bank, by all means retire and jam your heart out.
No one in Gen X will forget William Jefferson Clinton's sax performance on Arsenio Hall's late night show that garnered him some serious street cred among young voters. I remember one staunch Republican in my National Guard Unit citing it as a reason to raise the voting age so these impressionable kids couldn't vote based on thinking someone was cool. It's a good thing that type of policy hasn't been adopted, otherwise we'd just have the Lawrence Welk set who groove to the sounds of stiffies like John Ashcroft. Actually, I'm glad he did quit his day job! Now if only Orrin Hatch would follow...