No Kamakaze Kazahk at Fox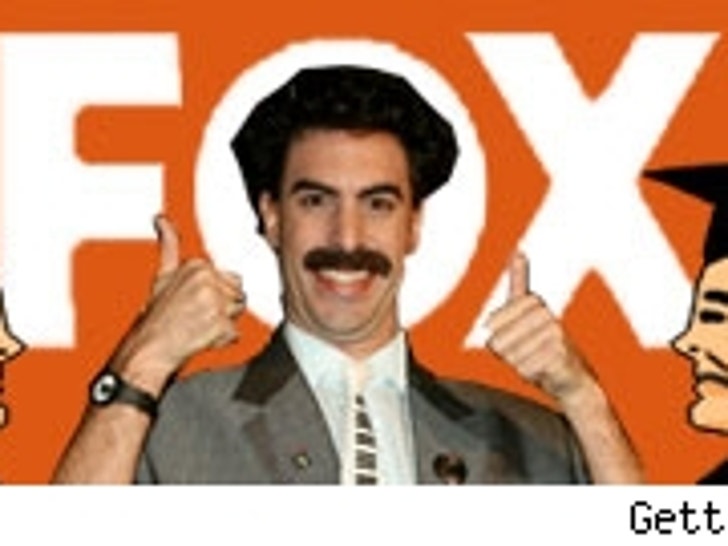 OK. "Borat" weekend haul was $26.4 million.
Let the glorious second-guessing begin!
So, is Fox a) an over-cautious bunch of milque-toast wimps, or b) a brilliant group of cinema strategists whose elan we pierce at our own peril?
Well, maybe the answer is "Both, simultaneously."
As the trades couldn't help but note, as did anyone else who covers media, the "Borat" per screen average was massive, $31,000 from just 837 screens. Almost too massive.
Observed The Hollywood Reporter, "Even after the film generated one of the highest per-screen averages on an 800-theater rollout in recent memory, many industry insiders still questioned Fox's strategy, with some speculating that the narrow bow left money on the table."
And Daily Variety groused , "Monday morning quarterbacks will wonder whether Fox could have captured even more B.O. dough had the studio rolled out "Borat" more widely."
After the way the studio utterly mishandled Mike Judge's brilliant-but-controversial "Idiocracy," one can't help but be predisposed to choice a) -- but there's lotsa good reasons to think the answer actually is b) as well.
Here's why: Released on too many screens, "Borat" could have easily devolved into "Snakes on an Anti-Semite," wherein it's media hype could never have lived up to expectations, and Sacha Baron Cohen would be the Howard Dean of comedy -- all fizz; no fermented horse urine.
Or something. Make up your own Kazahki analogy.
But by keeping demand pent-up in the face of amazing reviews, Fox has insulated itself against the painful, second-weekend drop-offs that typify so many movies, even good ones. Consider DreamWorks's "Flags of Our Fathers." Favorable reviews, but despite opening on 185 additional screens, it was down 38% over the weekend.
By contrast, given the word of mouth on the movie, can anyone seriously imagine a scenario wherein those turned away from sold out shows of "Borat" (including yours truly) won't show up next weekend when it's on 2,500 screens?
The flip side of the coin is that Fox was opening "Borat" against some lame-ass Tim Allen movie that is the sequel to a sequel so bereft of creativity, it may have physically damaged some children for life. (And as a friend of mine said about a Wall Street Journal's shock at "Borat's" success, "have they spoken to any American male between the ages of 30 and 55 who doesn't frequent the Council on Foreign Relations?") Was there really anything for Fox to fear?
Whatever the case, strategy or cowardice, Fox will probably 'make glorious benefits' next weekend. But you have to wonder if the motivation was keeping the movie on a slow boil, or just bracing for a crash landing that never happened. The truth is, we'll probably never know.