Tom Chows Through Pre-Wedding Nerves
In news of another, seemingly happier celebrity couple, it seems that TomKat is going through the usual pre-wedding jitters, and that Tom Cruise is eating his way through the nerves before his upcoming wedding to Katie Holmes.
Cruise recently shelled out $10,000 for dinner with his bride-to-be at Mastro's Steakhouse in Beverly Hills, according to In Touch Weekly (via MSNBC), and wasn't particularly concerned about fitting into his wedding suit, if his vast repast was any indication.
While his svelte bride "barely touched" her grilled sea bass, Cruise inhaled a porterhouse steak, wasabi mashed potatoes, French fries, onion rings, cheesecake and chocolate-covered strawberries. But Tom isn't the only one with expensive tastes: Katie's perfume of choice for her wedding day is Clive Christian No. 1, which retails for $2,350 per ounce.
Meanwhile, Page Six says that Tom's new BFF is that other Tom who got fired by Viacom's Sumner Redstone recently, former MTV honcho Tom Freston. The pair will be sitting at the same table at the Conde Nast Black Ball in New York tomorrow and have become "good pals."
Lindsay's Latest Fender-Bender
Maybe she should just hire someone to do the driving? Lindsay Lohan rear-ended her black Mercedes coupe early yesterday morning, according to Rush & Molloy, after being chased by a paparazzo, just hours after TMZ caught her outside Hollywood hotspot Hyde appearing somewhat upset. The condition of the actress was not known and her rep didn't know if she'd filed a police report.
Lohan was driving another black Benz in May 2005 when she was broadsided by a photographer's minivan, and five months later hit a van that was making an illegal U-turn. A TMZ spy also spotted her just two Sundays ago on the phone in tears and "out of it" after being followed by paparazzi.
Madonna Gets Shiner from Paps
In other paparazzi-related news, Madonna got a bruise on her cheek after being jostled by lensmen at Heathrow airport in London over the weekend, according to People – but luckily her son David wasn't hurt. "She had the baby in her arms when it happened," says People's source. "When she landed in London, there was a lot of pushing and shoving ... She got hit in the paparazzi's commotion." No word on whether the Material Mom has decided to press charges or to have the incident investigated further.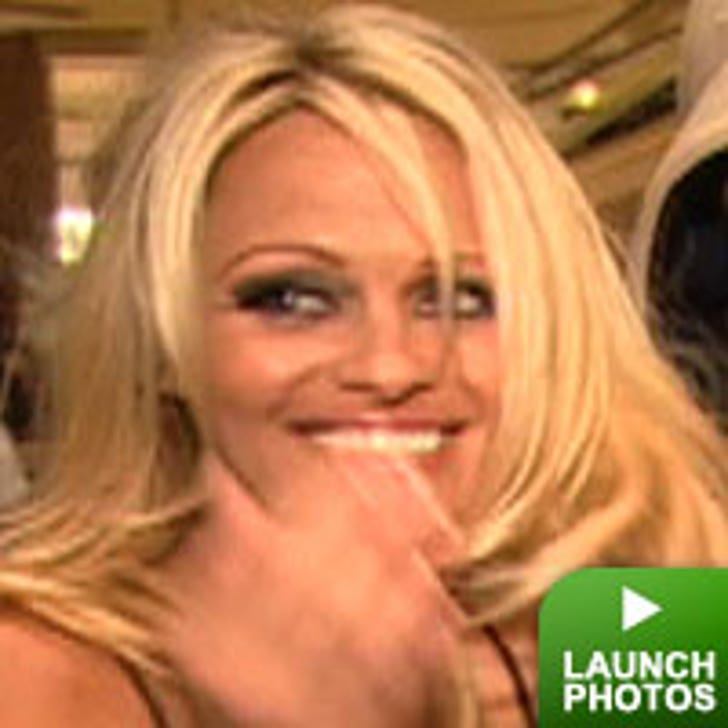 Pam Played Along with Borat
Pamela Anderson might've seemed genuinely distressed when ambushed with a traditional Kazakh wedding garment (a kidnapping bag) in "Borat," but Page Six is saying today that she was in on the joke all along. It was "loosely scripted" then "carefully choreographed with jerky camera movements to make it look real," according to the Post. "There's no way Sacha [Baron Cohen] and a camera operator could have gotten past her bodyguards in real life and then manhandled her." The parties involved are keeping mum, though Anderson and Cohen have in fact pulled pranks before – Cohen crashed a supposed "commitment ceremony" between Anderson's golden retriever and Chihuahua Luca in a previous "Borat" segment.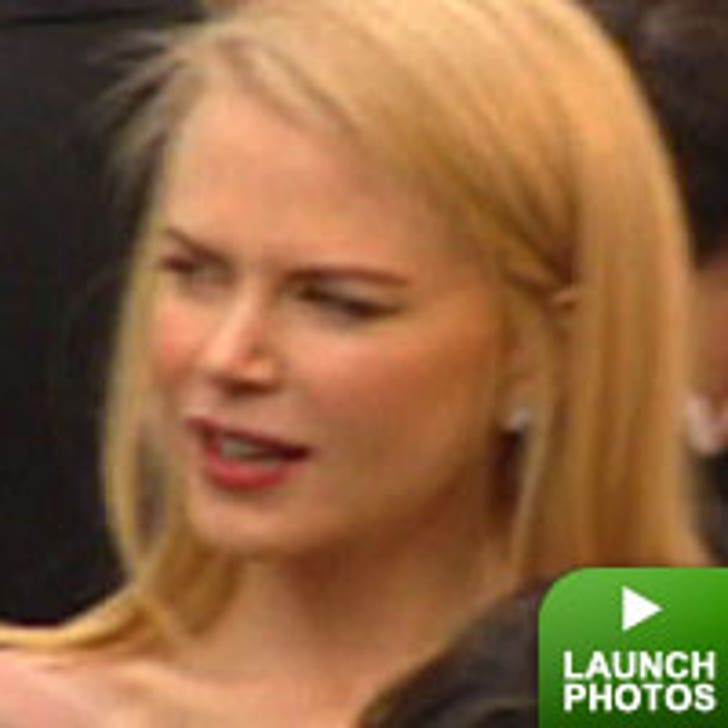 Party Favors: Nicole Kidman Misses Premiere for Hubby ... Music Legend Ertegun Recovering After Fall ... Bravo Stakes Out Parker For Hotel Reality
Nicole Kidman spent a couple hours with rehabbing husband Keith Urban on Sunday at the Betty Ford Center in Rancho Mirage, Calif., according to Us Weekly, and missed the New York debut of her new movie "Fur," in which she plays photographer Diane Arbus ... Ahmet Ertegun, the famed founder of Atlantic Records, is recovering after pulling a quasi-Keith Richards at a Rolling Stones concert and hitting his head on the ground. The label denied reports that Ertegun was in a coma ... Proving that no venue is too banal for a reality series, Bravo will be filming its latest series, "Welcome to the Parker," at the post Parker Palm Springs in Palm Springs, Calif. The series will document the trials and tribulations of the lodging biz.