"Invasion!": Wachowskis to Rescue Kidman Movie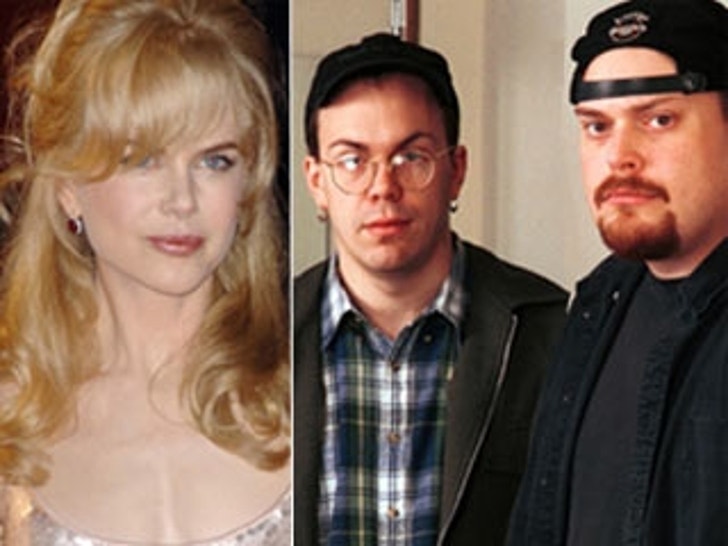 EXCLUSIVE: TMZ has learned that the Wachowski Bros. are pulling double duty at Warner Bros. Pictures.
Not only are the the famously press-averse Wachowski Brothers Siblings prepping "Speedracer" - based on the iconic 1960s manga comics property, they're being pressed into service by their old "Matrix" producer Joel Silver to do an emergency rewrite on the ending of the forthcoming Nicole Kidman sci-fi thriller, "The Invasion."
In the film, Kidman playing a Washington DC psychiatrist who discovers that a mysterious and fatal pandemic is actually being caused by an extraterrestrial virus, and her infected son is the only hope for a cure.
A studio insider familiar with the situation confirms that the ending of the film left something to be desired in the eyes of Warner Bros. production president Jeff Robinov, and that Silver quickly reloaded his "V for Vendetta" scribes to fashion a new ending, the details of which have not yet emerged.
The film is the English-language premiere of German director Oliver Hirschbiegel, who directed the riveting 2004 drama "The Downfall," about the final paroxysms of insanity and terror within Hitler's inner circle at the end of World War II. That film got nominated for the Best Foreign Film Oscar, and put Hirschbiegel on the hot short list of directors for major studios. Our moles tell us that Hirschbiegel and original screenwriter Dave Kajganich will get to keep their credits, but it's not clear if Andy and Larry?, Lana? Laurenca? Wachowski will also get writing credit.
Says an insider: "This is normal. It's a thriller, and occasionally, a studio will want it to make it, you know, actually thrilling."