Brangelina -- Josephine Baker Wannabes?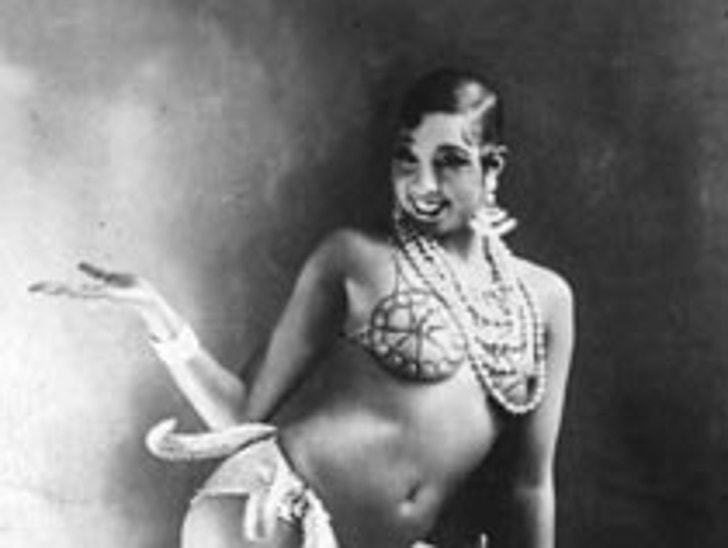 How many children will be adopted by Angelina Jolie and Brad Pitt? If they continue in the footsteps of famed humanitarian and sex icon Josephine Baker, they might take on an entire tribe.

The similarities between Brangelina and Baker are uncanny. Baker adopted a dozen multi-racial children and invented radical chic; Brangelina may end up adopting a dozen as well. They can afford it, Josephine couldn't ... but it didn't stop her. A princess came to her rescue.
Like Brangelina, Baker was fabulous, political, radical, chic, outrageous and controversial. This was a new kind of celebrity at that time; sexualized, outspoken, activist. The Pitt-Jolie union is all of those things as well. Here's a parallel portrait of the original diva activist, measured side by side with activists Jolie and Pitt.

With her wild abandon, Baker became a symbol for sexual liberation in the 20s and 30s. She got her first big break in 1921 when she was cast by legendary producer Fluornoy Miller in the chorus of "Shuffle Along," the first all-black show on Broadway. Her comedic dancing stole the show. She was asked to perform at various clubs, but could not abide segregated audiences at places like Harlem's Cotton Club, and she left the U.S. in 1925 for a more open-minded France. She became an overnight sensation by singing and dancing in nothing more than a feather skirt in the Danse Souvage, and with a pet cheetah at the Folies-Bergère in a skirt made famously of bananas. She starred in two films ("Zouzou" and "Princess Tam Tam") and made numerous recordings.


Her prodigious affairs (which she later said numbered nearly a thousand) were rumored to have included Greta Garbo and Frida Kahlo. In the age before video, she was the most photographed woman in the world, and earned more money than any entertainer in Europe. Brad and Angelina are arguably the most photographed, sexualized, politicized celebrities in the world.

During the occupation of France in World War II, Baker helped the French Underground, and was later awarded both the prestigious Croix de Guerre and Légion d'Honneur by the French government.

Like Brangelina, Baker was married a few times. In 1947 she wed French orchestra leader Jo Bouillon, who helped her raise a dozen adopted children of different races, whom she called her "Rainbow Tribe." First was Akio from Korea, Teruya from Japan, Jari from Finland and Luis from Colombia, and eight others from around the world. She visited the U.S. in the 1950s to help fight racism, and was refused service at New York's famed Stork Club. She was the only woman to speak at Martin Luther King's March on Washington. She told the crowd they looked "Like salt and pepper. Just what it should be." Rosa Parks was the mother of the civil rights movement, but Josephine Baker was its muse.

Josephine believed that "children of different ethnicity and religions could be brothers." She bought Château de Milandes, a castle in which to raise her tribe. She called them "an experiment in brotherhood." After various health problems, she eventually went broke. Princess Grace of Monaco (Grace Kelly) came to her rescue, helping her stage a comeback and find a new place for her tribe. At age 68, Baker staged a wildly successful 50-year retrospective of her life, entitled "Josephine." It opened at Club Bobino in Paris, April 8, 1975, followed by a star-studded party which lasted two days. Audiences were stunned to learn that Josephine suffered a cerebral hemorrhage on the morning of April 10, while reading rave reviews of her stunning comeback. She never regained consciousness, and died two days later. She was given a televised state funeral in France, with a 21-gun salute. Over 20,000 people attended.

Angelina and Brad will likely continue their humanitarian efforts. Brad has helped the Katrina victims, Habitat for Humanity and others. Angelina serves as Goodwill Ambassador for the United Nations. They have three children, Maddox from Cambodia, and Zahara from Ethiopia, and birth daughter, Shiloh, born in Namibia. It will be interesting to watch how all of them perform on the world stage over the next few years, promoting both charity and humanism. Their children will command attention for many years, with potential artistic and political careers in store for them, and perhaps for Brad and Angelina as well.
For all of their wealth, celebrity and attention, Brad and Angie appear to have their hearts with the people of the world. Pitt embraced Bono's One campaign, which is devoted to reducing poverty, and he is deeply involved with the Global Green evironmental project. The couple established their own charitable foundation, and have donated to Doctors Without Borders and Global Action for Children. They donated the $4 million they got for the first pictures of baby Shiloh to various charities in Africa, saying; "While we celebrate the joy of the birth of our daughter, we recognize that two million babies born every year in the developing world die on the first day of their lives. These children can be saved, but only if governments around the world make it a priority."
Josephine Baker would have loved them.