The N-Word Is Always Welcome Here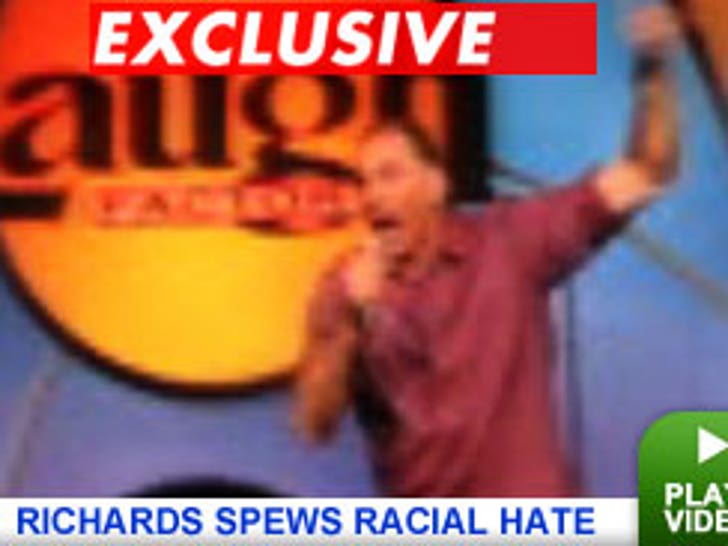 At least one person in Hollywood doesn't think Michael Richards' racist rant was all that bad. In response to attacks on the former "Seinfeld" star, the black owner of the Comedy Union is opening his doors to comics who use the N-word.
"Someone had to stand up for comics, and freedom of speech has to rule the day," says Enss Mitchell in a Yahoo News report. "No matter if you agree or disagree with what someone says, you have to allow them the opportunity to say it. It's a slippery slope when anyone wants to start banning a word."
Maybe comedians will start lining up here to avoid putting $20 into the Laugh Factory's self-imposed swear jar every time they use the racial slur.
Lohan's 12 Baby Steps to Sobriety
Although she was drinking champagne and causing a scene at a recent GQ event, the New York Post reports that Lindsay Lohan is finally drying out. Last week, the party girl continued to hit such L.A. hot spots as Hyde and Chateau Marmont, but the starlet was seen sipping water. Her biggest step toward sobriety, though? Lindsay hasn't been seen anywhere near on-again, off-again BFF Paris Hilton. But that might just be a fluke since Paris jetted down to Miami for a few days to rekindle her relationship with Stavros Niarchos.
K-Fed: Armani for Nothin' and Chicks for Free
For some reason, Kevin Federline is still being allowed to make the rounds in Hollywood. But it seems Brit's ex only cares about parties with free booze and swag. According to Page 6, the legend-in-his-own-mind hit up an Armani Exchange store in L.A. for thousands of dollars worth of clothes to sport at an A/X party later that night. He pulled up to the event in a rented Maybach, spent the night at the open bar and then left with a gaggle of "giggling girls." When will the free ride end?
Party Favors: Madonna Designs Full Clothing Line For H&M ... Elvis Costello and Diana Krall Welcome Twins ... Spice Girl Fires Back at Eddie Murphy
Madonna is taking her partnership with H&M to the next level. After designing a one-off tracksuit for the company, she will now release a full-blown line of accessories and clothing worldwide ... Singers Diana Krall and Elvis Costello welcomed twin boys, Dexter Henry Lorcan and Frank Harlan James, on Dec. 6 ... Former Spice Girl Melanie Brown is lashing out at Eddie Murphy's remarks that he doesn't know whether he's the father of her unborn baby. "I have no idea why anybody would want to conduct himself in this kind of manner about such a personal matter in such a public way," she says. "There is absolutely no question that Eddie is the father."