Russell Simmons Spars With Blood Diamond Director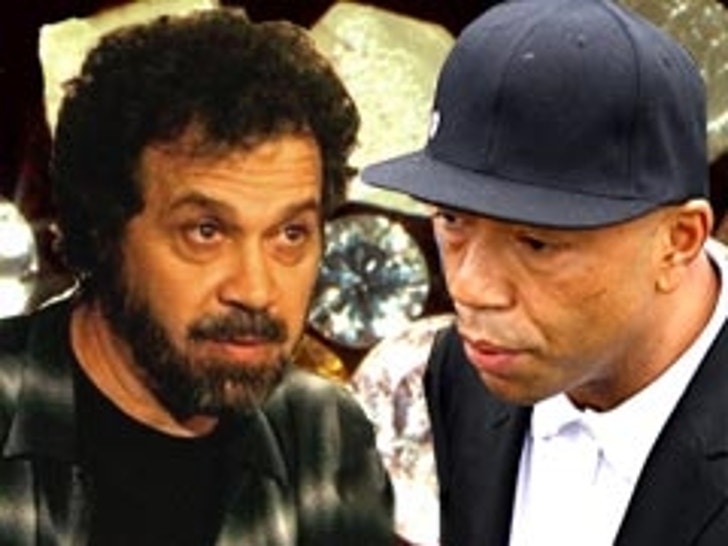 Hip-Hop impresario Russell Simmons is one of those great stories. Along with Def Jam co-founder Rick Rubin, Simmons can be credited with bringing rap into the mainstream and opening doors to the fame and fortune so many hip-hop stars enjoy today. Simmons has impressively expanded his empire beyond music to business ventures which include a clothing line, a financial services company and a jewelry company. Adding a line of jewelry makes sense given how hip-hop culture has infused accessories into necessary props for any would-be MC.
For years, some have questioned hip-hop's bling binges when the major component of so many adornments - diamonds - have such a controversial industry behind their cultivation in Africa. Indeed, earlier this summer Kanye West, who addressed the issue in his "Diamonds From Sierra Leone" track, participated in the documentary "Bling: A Planet Rock" and urged the hip hop community to "bling responsibly." Some human rights activists have gone farther and called for all-out boycotts of the diamond industry.
Russell Simmons thinks that kind of rhetoric goes too far. He recently toured Africa and says that not all diamonds are so-called "conflict diamonds," and as stated by the likes of Nelson Mandela, some good is created by the proceeds and jobs created by the industry. Not everyone thinks Simmons is right for defending the industry, even if he's only speaking about certain segments.
Ed Zwick, director of the new Warner Brothers film, Blood Diamond, starring Leo DiCaprio and Jennifer Connelly, reportedly says Simmons is being used by the industry and that "Simmons is being embarrassed" by speaking out on its behalf. Simmons took offense to the comment, and issued this statement to TMZ through a rep:
"The entertainment industry, including Warner Brothers and those involved in the film 'Blood Diamond,' need to remember that the message they send about diamonds from Africa out into the world can have serious and negative repercussions for the African people in countries which rely heavily on the revenue from diamonds to sustain themselves and continue to grow. They need to be responsible and tell the whole story, acknowledging the good diamonds have done in helping to build schools, HIV/AIDS clinics, hospitals , and the jobs the industry has provided for many, many people in southern Africa."

Simmons may be even more fired up when Kanye and other rap stars appear in "Bling: A Planet Rock," and start getting media play when on its release next year. The documentary, according to IMDB, investigates a satirical correlation between hip-hop's increased appetite for bling and conflict diamonds. From the back and forth this week, it looks like the diamond wars may give way to the PR wars, as we try to separate the "good diamonds" from the "bad" ones. It remains to be seen as to whether the release of "Blood Diamonds" will have a short-term impact on stocking stuffers this holiday season. Either way, it looks like some efforts are being made to take the "sting out of the bling," and even Simmons agrees there is more work to be done.