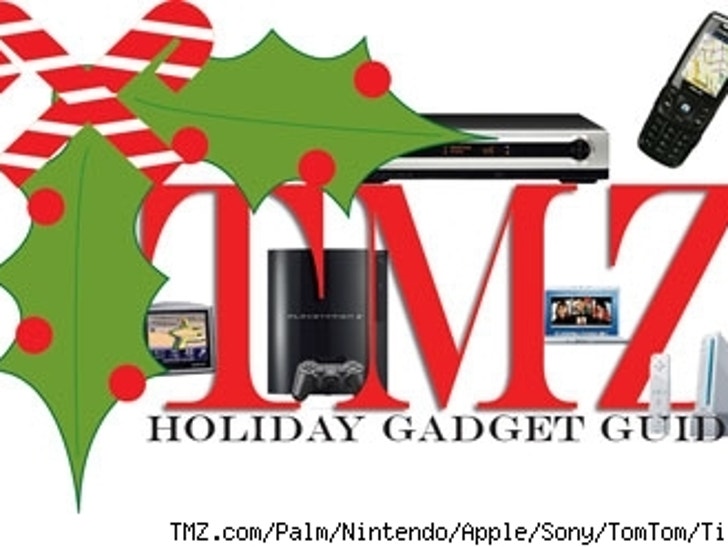 Does shopping for the geek in your life have you confused? Perhaps you need a website to leave on your computer screen so your significant other can see it and pick up a hint -- instead of getting you another canister of stale popcorn.

TMZ to the rescue! To help make this holiday season a little brighter, here's a shopping guide for both the casual geek and hardcore electronics aficionado.
CASUAL GEEK: This is a person who loves his phone, but doesn't need the latest and greatest as soon as it's released. Casual Geek is still happy to play Halo 2 on the Xbox and watch TV on a non-HD television. Here're some ideas for your geek:
Nintendo Wii - Nintendo is marketing the Wii (pronounced "wee") as the gaming console for the entire family. Its innovative motion sensor controller allows gamers to swing a tennis racket or have a boxing match by punching the air. Aggressive use has caused some strap breakage and a recall; you can use a better strap you've got around the house until they send you one. Its relatively low price of $250 makes it a great gaming device that won't send you to the poorhouse.
Helio Drift - If your geek needs a communication device (don't call it a phone) that does more than place calls, the Helio Drift is perfect. The best feature is the Beacon Buddy option that allows you to find your fellow Helio Drift users, who appear on a Google map on your phone. Nifty.
TomTom - Eventually, everyone gets lost. Unfortunately, not everyone can afford a top of the line vehicle with an integrated GPS navigation system. TomTom is filling that gap with a portable GPS system that you can move from car to car, and will help you find grandmother's new house -- over the river and through the woods.
DoPi Karaoke - Sure, you can go to a bar and embarrass yourself in front of drunken strangers with your rendition of "Toxic," or you can get the DoPi Karaoke system for your video (or non-video) iPod and embarrass yourself in the privacy of your own home... in front of relatives. Talent not included.
HARDCORE ELECTRONICS AFICIONADO: This is the person with all the latest gadgets who spends his entire day searching the Internet for the release date of the Apple iPhone, and can name every Nintendo Mario game.
Playstation 3 - If you can find one of these elusive consoles, you're sure to make someone's holiday very special. The Blu-Ray-equipped next-generation console boasts the fastest processor of any console on the market and can even be configured as a Linux box.
Treo - No matter which flavor Treo you choose; Windows or Palm, the Treo is still the go-to smart phone for the geek on the go. Email, Web and a full QWERTY keyboard are sure to keep your road warrior happy... and busy learning all the features.
TiVo Series 3 - As the world's only HDTV digital media recorder with THX-certification, the new TiVo Series 3, with its ability to record up to 300 hours of broadcast television, will keep your geek in episodes of MythBusters and Heroes to their little robotic heart's content.
Apple Mac Book Pro - Whether you use Windows or Apple Computer's OS X, this laptop has you covered. Running on an Intel Core 2 Duo chip, this laptop has everything you need to blog from your favorite coffee shop, or edit that video for YouTube where you launch a model rocket into a bouncy house.
Hopefully, this will help you find what you need this holiday season. Just don't ignore your family once you open your present. The holidays are a time for family; you have 364 other days to try out your new stuff!