Britney Booed, Boo-Hoos, Bails on Lakers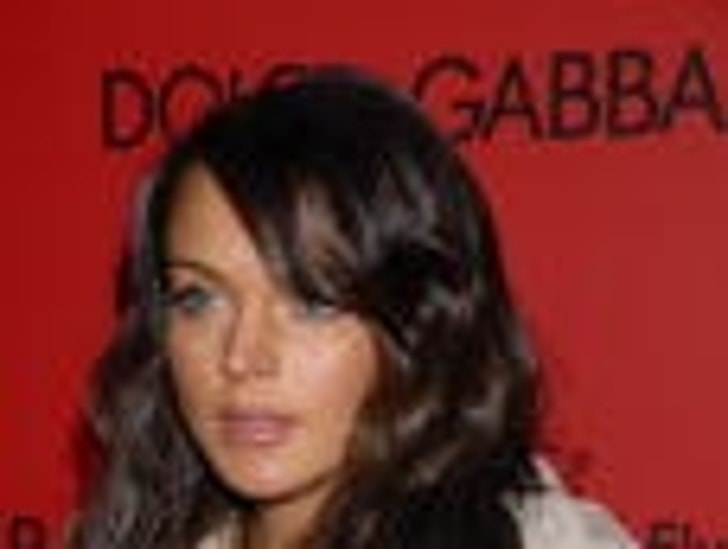 How the tide has turned – now it's Britney who's getting booed and K-Fed, or something like him, eliciting cheers.
The exhibitionist pop star was among the fans at last night's Lakers-Wizards game at L.A.'s Staples Center, attending with sister Jamie Lynn and agent Jason Trawick. When Brit's face popped up on the Jumbotron, according to a TMZ spy in attendance, the entire crowd booed loudly, making Britney so mad that she left even before halftime.
To add injury to insult, the image of a K-Fed-alike graced the Jumbotron shortly thereafter, and the crowd actually cheered. Fellow celeb-fans Chris Tucker, Ellen Pompeo, Andy Garcia, and, of course, Jack Nicholson, stayed around to watch an overtime thriller, which the Lakers lost.

Firecrotch Burned by Stripper Pole?
Lindsay Lohan is taking her job very seriously – seriously enough that she's giving her famously fiery no-no special place an absolute beating with some varsity-level pole dancing.
In another e-mail uncovered by Page Six, Lohan tells friends that she's practicing for her role as a stripper in her next film, "I Know Who Killed Me," and that three hours of pole dancing rendered her a "walking black-and-blue mark." Thankfully, she provides even more anatomical detail: "We're talkin' like, UPPER AND INNER THIGH ACTION-bruised ... I didn't know it was actually possible to have bruises in such areas of the body."
Lohan has also gained a newfound respect for professional ecdysiasts: "Strippers dude, I tell you, I really respect the c***s now ... I'm not going to lie to ya." Her rep, oddly, feels the same way: "We should give these women credit," says Leslie Sloane Zelnik to Page Six.
Jacko's Touch Too Pricey, Even for Japanese
Michael Jackson was going to make a big Christmas splash in Tokyo, but it looks like the chance to shake his de-pigmented hands was just too expensive for the Japanese, says MSNBC's The Scoop. Some tickets cost up to $3,300, just for the opportunity to meet, greet, and be photographed with Jacko (no singing or dancing though), and paying half that only got you the meeting and greeting bit. Some cheaper $425 tickets were offered as well (perhaps buying you a glimpse of the King of Pop?), but the normally fanatical Japanese were reportedly "outraged" at the demanded outlay. The CEO of the company putting on the event says he wants to be "inclusive" for Michael's fans, and now there will be a "Fan Appreciation Day" in Tokyo in March.

"Happyness" Is a Warm Reception at Weekend B.O.
Will Smith continued his run of #1 box office debuts with "The Pursuit of Happyness," which took in $27 million, finishing ahead of the dragon tale "Eragon," with $23.45 million and the live-action version of EB White's children's fable "Charlotte's Web." Besides "Happyness," Smith previously won the weekend ticket take with "I, Robot," the "Men in Black" films, and last year's "Hitch." Meanwhile, "Dreamgirls" opened strong in limited release, with $360,000, as did "The Good German," the latest Steven Soderbergh – George Clooney collaboration. Mel Gibson's "Apocalypto" took a steep dive, picking up just $6.3 million in its second weekend.

Party Favors: Obama Not Ready, Says Alec ... Seinfeld's Got Hives ... TV Yule Logs Face Off
45-year-old Barack Obama is just "a kid," according to 48-year-old Alec Baldwin, and thus ought to wait ten years for a White House bid. "I don't think Barack should run for president," says Baldwin to Page Six. "I admire him, but he's a kid." ... Jerry Seinfeld is writing and producing a new movie, next year's "Bee Movie," about a bee who leaves the hive and discovers that humans are stealing honey. And Jerry tells Newsweek that his home life is providing all kinds of material. "If my life was total misery – which it's not, it's heaven, I love my wife, I'm having a great time – but if it was total misery, it would still be worth it for the jokes." ... And if you read nothing else today, check out the AP's piece about the TV Yule Logs, those brightly burning picture logs that stand-in for an actual fireplace for apartment dwellers. WPIX says it's actually very well rated, and another log will air uninterrupted on INHD in, yes, high-def.