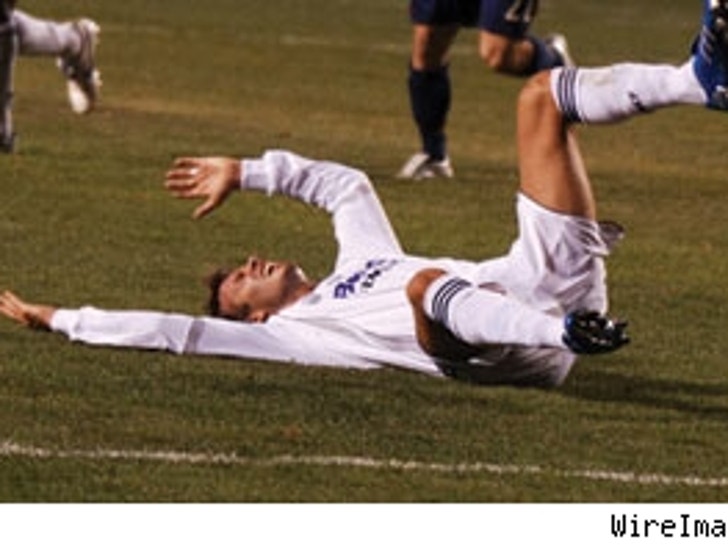 While Posh stirred things up in Hollywood this weekend, hubby David got the green light back home to breeze through the rest of the season with Real Madrid before heading to the L.A. Galaxy.

"He will practice, but he is not going to play," coach Fabio Capello tells the New York Post. "A player who has such a major contract with another team ... we cannot count on him."
With all that free time, Becks can daydream about what kind of digs that new $250 million contract can buy him in the States. Of course, it'll be hard to top their $13.6 million home in England – referred to as "Beckingham Palace" – which features a $40,000 treehouse and $252,000 fort for their kids.
Apparently, Britney's worn out her welcome at her regular Hollywood haunts. The party girl and her new boy toy, Isaac Cohen, are now making the rounds at West Hollywood's gay clubs. According to Perez Hilton, they hit The Lounge in Tigerheat on Thursday, and then were seen at The Abbey the next night. In between her two nights out, Brit was able to pencil in her kids. On Friday, the disheveled party mom was seen playing with them in a park.
Donald to Condi -- You're a Joke
It seems that no one's safe from Donald Trump's wrath -- not even Secretary of State Condi Rice. According to the New York Daily News, Trump says: "She goes on a plane, she gets off a plane, she waves, she goes there to meet some dictator. They talk, she leaves, she waves, the plane takes off. Nothing happens, it's a joke, nothing ever happens. I think she's a very nice woman, but I don't want a nice woman. I want someone that's not necessarily nice." Who is Trump's kind of woman? Senator Hillary Clinton, who he calls "very capable."
Madonna Flees From Letterman
After filming an appearance on David Letterman in New York, Madonna was caught in a high-speed chase. Perez Hilton reports that two vehicles tried to run the Material Girl off the road, and her driver was blowing red lights all the way down Fifth Avenue. The pop star even called 911, but she was able to shake the stalkers off her tail before the cops got there.
Party Favors: Lucy Lawless Takes a Stab at Singing ... Andy Warhol's House Sold ... Johnny Depp to Make Movie About Russian Spy
Lucy Lawless, aka "Xena: Warrior Princess," caught the singing bug after appearing on the reality show "Celebrity Duets." She performed a sold-out show at the Roxy in L.A. ... Andy Warhol's Long Island, N.Y. estate has been sold. The Montauk property was bought by Millard Drexler, CEO of J. Crew, for an undisclosed amount. ... Johnny Depp is planning to make a film based on the former Russian spy who was poisoned last year. It is one of three possible films that will be made about the case.