Axis of Upheaval: Lohan, Hilton, Spears?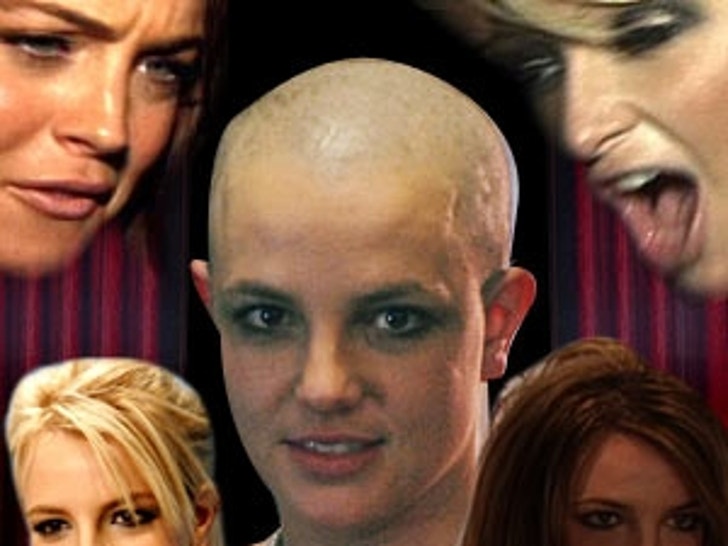 There is no Celebrity State of the Union address, but if there were, the President (naturally, Tom Cruise) would be forced to begin his this way:
"Paris. Lindsay. Britney. My fellow Americans ... Stars like these, and their reality TV allies, constitute an axis of upheaval, arming to threaten the peace of the celebrity world."
Paris and Nicole Richie have matching DUIs. Lohan and Brit have matching "rehabs." And now, no amount of coverage on Britney's haircut has been spared, and all sorts of folks have suggested a "nervous breakdown" is imminent.
But like so many "facts" in so many recent State of the Union addresses, Brit's recent scalp-mowing may not be such a grave and gathering threat after all. Overseas, for example, some of the reaction has been far more positive. As the Guardian's Ben Hammersley wrote today, from one Brit to another:
"For Britney, knowing the intimate details of her life as we do, shaving her head is not so much a cry for help as a loud, clear, declaration of independence. For a woman whose life is lived in public, handled, managed, choreographed, targeted, photographed, stalked, interpreted and commented on, the deeply personal choice of shaving her head can only mean one thing: I am me, finally for myself."
For some folks, finding 'balance' means achieving equilibrium between the demands of work and family. For Britney, 'balance' means that the curtains finally match the carpet.
That's not exactly equanimity, but it's a start.