Kosher Hotspot? No, Not an Oxymoron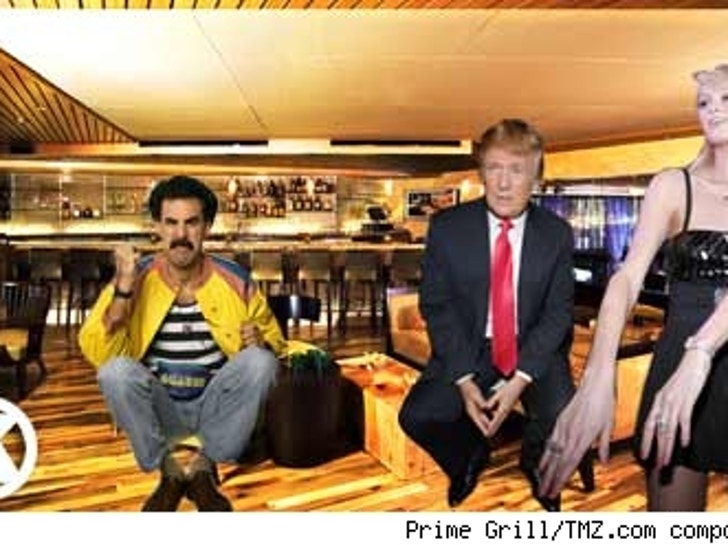 Could keeping kosher be the new Kabbalah? As meshuggeh as it might sound, Paris Hilton, Donald Trump, and Colin Farrell (all noted non-Jews) are all kvelling over Beverly HIlls' newest kosher steakhouse, Prime Grill. Kenahorrah.

Paris liked it so much, she had her 26th birthday party at the nearly four-month-old restaurant; a lavish affair that got especially interesting with the decidedly crazy antics of Brandon "Greasy Bear" Davis, as TMZ observed earlier this week. Just yesterday, Oscar nominee and anti-Semite-impersonator Sacha Baron Cohen (OK, so he is a Jew) chilled with a $150 half-bottle of kosher wine, his fiancee Isla Fisher and his folks. We're also told that Donald Trump, Bono, and Madonna are regulars at the New York outpost, which has been around for seven years. Go know.
Exactly how does a steakhouse (that serves sushi no less) observe the Kashruth? Well, for one, very carefully, with extremely vigilant chefs, especially for the raw fish -- all under the supervision of owner Joey Allaham (whose name means "meat"). And then there's no creamed spinach to accompany, but there IS ice cream for dessert -- it's just non-dairy. What, you don't want a little something sweet? Eat! EAT!
Still, how kosher can a place be with Paris around? No word on whether she's getting an Hermes shmata for her shicksa kup.