The Z List - This Week's Biggest Losers 03/31/07
Don't cry for K-Fed; rounding off his divorce settlement at $1 million for 25 months of matrimony, that means he got paid $17,857.14 a week for his husbandly chores. No, if you do anything this weekend, shed a crocodile tear for the following K-Oed bunch.
Daniel Sadek: The real-estate-investor-turned-film-producer willingly crashed a couple of his Porsche Carrera GTs during the making of "Redline," a $26 million action flick he is personally financing. But Monday's charity race rehearsal business with co-star Eddie Griffin and a $1.5 million Ferrari Enzo was entirely unscripted, a sort of weird anniversary celebration of last year's similar Malibu Enzo dust-up involving Swedish swindler Bo Stefan Eriksson. To his credit, Sadek was able to put the loss in the proper materialistic perspective during a brief, 15-minute private trailer mourning. But for Griffin, forget about "Undercover Brother," the film he jokingly referenced afterwards. This is more like that brief one-year marriage the class clown engaged in while still in high school.

Chris Rock: It's official; the American public knows it likes you better as a razor-sharp observational comedian. After two weekends of miserably unprofitable theatrical release and a 19% rating from critics on RottenTomatoes, "I Think I Love My Wife" is down to 595 theaters this weekend, with that Viagra tail of Rock's character, Richard Cooper, dragging firmly between the multi-hyphenate's legs. In retrospect, maybe actor-writer-director-producer Rock should have said yes instead -- to that big high-concept Hollywood gig that would have cast him as a car chase criminal taking over for a NASCAR driver. As it is, we can't help but think that you may have fought Jude Law, but for now at least, Jude Law has won.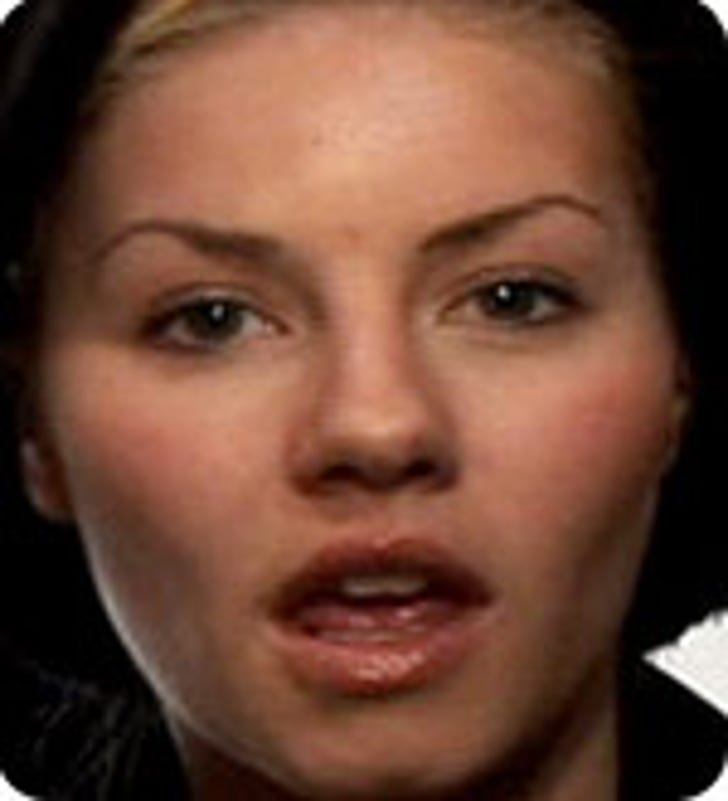 Elisha Cuthbert: Maybe this delectable 24-year-old should get together with producer Brian Grazer to commiserate over coffee. In another case of an innocent Hollywood bystander getting caught up in horrific stupidity, Lionsgate and After Dark Films were reprimanded Thursday by the MPAA for their tasteless and very short-lived recent L.A.-New York ad campaign on behalf of the upcoming Cuthbert horror flick, "Captivity." Among other things, the companies must now wait a month before submitting the film for ratings approval, thereby throwing the May 18th release date into question. Coming on the heels of reports that the Justin Timberlake ditty, "What Goes Around... Comes Around" was all about Cuthbert's one-time relationship with Trace Ayala, it's enough to make any Calgary cowgirl go boo hoo.
David "Oh" Russell: We got news this week that the filmmaker is working on an adaptation "Sammy's Hill," the comedic Washington D.C. novel by Kristin Gore, daughter of global warming guru, Al. But Russell remains strangely -- and we think, mistakenly -- silent about the whole "I Heart Huckabees" dust-up, which has inspired a global cooling of his reputation. Sure, the F-bomb doesn't quite rate these days the way the N-bomb or even Mel's J-bomb did.
Dave Della Terza: OK dude, it's not funny anymore. With Sanjaya surviving another round of "American Idol," thanks in part, to your VotefortheWorst.com endeavors, FOX might as well replace Ryan Seacrest with John Walsh and call it "America's Least Wanted." It's not all fun and games now either; a civil litigation attorney told Bill O'Reilly this week that you could logically be sued for interfering with a business, and yesterday, someone hit your site with a DOS (denial of service) attack. Quick, somebody Photoshop some scandalous threesome photos of Della Terza, Alaina Alexander and Antonella Barba, so we can get rid of this mishuggeneh.