Britney's Rehab Boy Trashed by K-Fed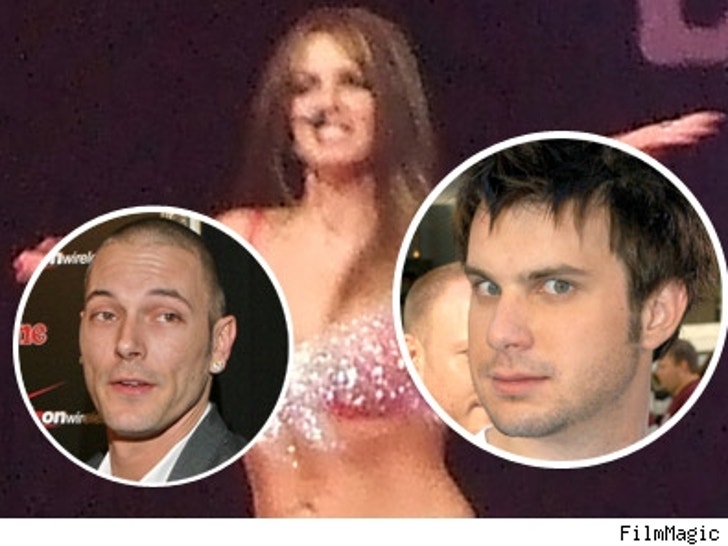 Kevin Federline, amazingly enough, is calling Britney Spears' boytoy Howie Day "trash," and adds that Britney had to "head to the dump" to meet Day while in rehab.

K-Fed's slam came when he heard, reports Star (via MSNBC), that his ex had a sleepover with musician Day, prompting him to light a cigarette and say, "You have to head to the dump to find trash." What's more, says Star, Britney's closest girlfriends are telling her that she shouldn't let Day into her life, but it just fuels Brit's affections. "It's music to Britney's ears. She likes the drama," says a friend.
Paris Threatened by Jailbirds?
Paris Hilton is being threatened by her future neighbors in the county jail where she's supposed to start her stint in the clink in June, according to Life & Style. Paris has reportedly received dispatches from inmates suggesting that she'll be "beaten to a pulp" and that her shoes might get stolen when she gets there. "These maniacs have been writing, 'We're going to get you' and 'I'm going to kill you.'" Being a socialite can be troublesome.
Meanwhile, while a petition to pardon Paris sits on the Governor's desk, another, circulated by IDontLikeYouInthatWay.com, is asking Schwarzenegger for the exact opposite -- to ensure that she gets no clemency.
Lohan's Mama Rides Lindsay's Back
Is Lindsay Lohan's mom using her very visible daughter to launch her own TV career? Page Six notes that Dina Lohan was on the red carpet for "Entertainment Tonight," to interview celebs attending the premiere of her daughter's new movie "Georgia Rule" -- though there's really only one celeb that matters to "ET." Since Lindsay might be wary of questioning, following the alleged pictures that emerged in a London tab, her mother could end up getting an exclusive with Lindsay. Of course, Dina did a similar thing when Lindsay checked into rehab, bringing cameras to the facility to "visit" her daughter, with little sister Ali in tow.
Party Favors: George Lucas Calls "Spider-Man 3" "Silly" ... Will Rosie Take Hot Topics with Her?
"Star Wars" creator George Lucas is dissing the newest Biggest Blockbuster of All Time. Of "Spider-Man 3," Lucas said, "It's silly. It's a silly movie," he tells Fox News. "There just isn't much there. Once you take it all apart, there's not much story, is there?" ... Rosie O'Donnell could resurrect the popular Hot Topics segment in her new show, wherever that happens to be, says Broadcasting & Cable, and it might not make Barbara and co. particularly happy if Rosie ends up competing against them in the mornings.