Britney's Rehab Boy Trashed by K-Fed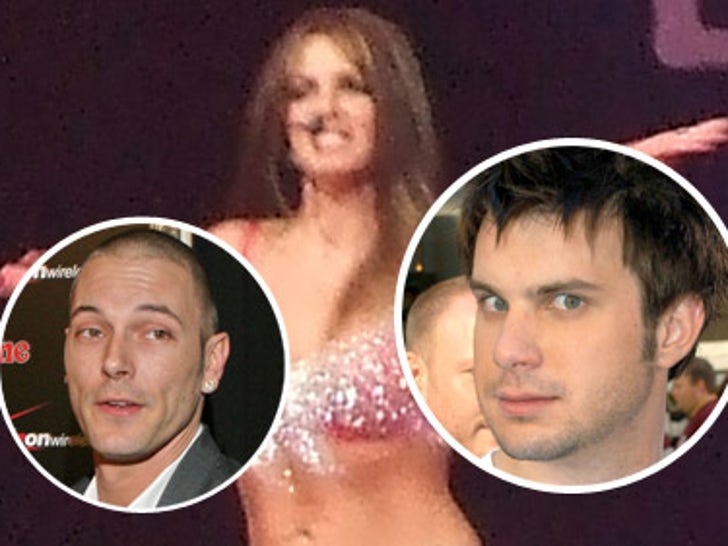 Kevin Federline, amazingly enough, is calling Britney Spears' boytoy Howie Day "trash," and adds that Britney had to "head to the dump" to meet Day while in rehab.
K-Fed's slam came when he heard, reports Star (via MSNBC), that his ex had a sleepover with musician Day, prompting him to light a cigarette and say, "You have to head to the dump to find trash." What's more, says Star, Britney's closest girlfriends are telling her that she shouldn't let Day into her life, but it just fuels Brit's affections. "It's music to Britney's ears. She likes the drama," says a friend.
Britney also likes a man in uniform -- especially when he's packin' heat!
Spears was spotted with a couple of armed LAPD officers yesterday as she walked with son Sean Preston and an assistant to and from the Millennium Dance Studio. With her gun-toting pals in tow, the Britster safely made her way into her choreography lesson, sporting some skintight booty shorts, fishnets and her signature cowboy hat. Let's dance, y'all!
Kelly to Clive: Shove It!
"Idol" champ Kelly Clarkson has used her music muscle against her record label head, Clive Davis -- and won!
Well-connected record company sources tell TMZ that Clive likes to exercise "creative control" over artist recordings and wasn't happy at all with Kelly's latest album, "My December." There are unconfirmed reports Clive wanted to shelve the entire album. TMZ has confirmed that the 75-year-old music mogul asked for "significant" changes and wanted to put the brakes on the CD. But Clarkson wasn't having any of it -- especially since she wrote/co-wrote all the tracks on the record.
Sources tell us that Clarkson stood up to him and flat out refused to give in, and in the end she got her way.
One source told TMZ there is "deep tension" between Clarkson and Davis, adding, "She's definitely upset, but she's not a stupid girl."
Paris -- Blame It on the Messenger?
Hilton has already retained famed criminal defense lawyer Howard Weitzman. Yesterday, she met with celeb DUI lawyer Richard Hutton. TMZ spotted Hilton bawling as she drove away Hutton's office Tuesday afternoon, with mom Kathy driving -- and consoling -- her daughter.
Hilton is in a true pickle and it seems she's throwing a Hail Mary by hiring Hutton, hoping she can convince the courts she shouldn't serve 45 days in the pokey. This could be the most expensive DUI case ever.
Meanwhile, while a petition to pardon Paris sits on the Governor's desk, another, circulated by IDontLikeYouInthatWay.com, is asking Schwarzenegger for the exact opposite -- to ensure that she gets no clemency.
Ty Pennington Charged with DUI
"Extreme Makeover: Home Edition" star Ty Pennington has just been charged with two misdemeanor DUI counts stemming from his arrest Saturday morning.
Sources tell TMZ Pennington had a .14 blood alcohol level when he was stopped at 12:35 AM Saturday in Los Angeles. The legal limit in California is .08.
Party Favors: George Lucas Calls "Spider-Man 3" "Silly" ... Will Rosie Take Hot Topics with Her?
"Star Wars" creator George Lucas is dissing the newest biggest blockbuster of all time. Of "Spider-Man 3," Lucas said, "It's silly. It's a silly movie," he tells Fox News. "There just isn't much there. Once you take it all apart, there's not much story, is there?" ... Rosie O'Donnell could resurrect the popular Hot Topics segment in her new show, wherever that happens to be, says Broadcasting & Cable, and it might not make Barbara and co. particularly happy if Rosie ends up competing against them in the mornings.