The Public Affair Is Over
It appears that the epic romance of Jessica Simpson and John Mayer has run its course. Please ... contain your surprise.
As first reported by Perez Hilton, Jess and John have indeed split. TMZ cameras caught a solo Mayer at NYC hotspot Stereo last night, looking just fine on his own. Get in line ladies, he's single again.
As for the reason for the, er, bustup, a rep for John refused to comment on the Grammy winner's personal life and a rep for Jess could not be reached.

Could it be because he's on the Time 100 Most Influential list having conversations with presidential hopeful John Edwards while she's pushing her hair extensions? Hmmm...
Some things just weren't meant to last.
Stylist Sues Oprah's "Color," Claims It's Too White
A former stylist and dresser for Oprah Winfrey's "The Color Purple" is suing the Broadway show -- produced and presented by the media queen herself -- after she was fired, she says, for daring to suggest that there weren't enough people of color working for the show.

TMZ has just obtained a lawsuit filed by Shawnique Hill in a Manhattan federal court. She alleges that during her employment she raised the issue with one of the bosses that, "while the talent employed onstage was a cast of African American actors ... the crew hired backstage was Caucasian with the exception of three persons of color." What's more, she claims that her direct supervisor -- a Caucasian -- addressed her as "sister" and "girlfriend," which offended Hill, who is black.
Hill claims the production retaliated against her for the comment, harassing her, and ultimately firing her. Hill seeks unspecified damages. Oprah was not individually named in the suit.
UPDATE: A rep for "The Color Purple" tells TMZ, "We can confirm it is in litigation. We are confident there has been no violation of law.

Lil' Brit's Lil' Secret: I Led Lil' KISS Army!
TMZ has learned that Terra Jole (aka Mini Britney Spears) has a gigantic showbiz history, and Britney isn't the only big star that the wee powerhouse has impersonated.

Jole was formerly with the band Mini Kiss ... playing a little version of Gene Simmons in a KISS-mocking rock band. The band had quite a cult following, with regular performances at Jeff Beacher's Madhouse at the Hard Rock Hotel and Casino in Las Vegas, which is relaunching on May 26. Mini KISS has also performed opposite a band owned by Beacher, Tiny KISS. Jeff's a leader in big, little entertainment. You just can't get enough little KISSes!
The petite pop doppelganger diva-ette also had a small role in "Austin Powers 3." Now a huge sensation as Mini Britney, Terra is originally from San Antonio and has been performing since she was a little girl.
What's Going on with Britney's Head?!
Britney Spears' hairiffic blonde extensions have made yet another hair-rowing appearance on the pop star's head. Despite two days of hard work, Brit's head is just a mess.

Yesterday, TMZ showed you pictorial evidence of Brit's inch-long real hair, and the long extensions that an Orange County stylist had to work for hours to get just right. By the look of things, she's going to need that touch-up, STAT! Yesterday, a stylist revealed exclusively to TMZ that she worked for two days straight just to get the blonde pieces attached to those one-inch stubs of hair.
Meanwhile, we spotted Britney leaving the Millennium Dance Studio yesterday clad in a black number -- not the canary yellow piece she went in with. Perhaps some time with a mirror examining those extensions put the starlet in a black mood.
Reese's Estranged Hubby Wants.....
Ryan Phillippe has fired his shot off the bow in his divorce with Reese Witherspoon.

TMZ has obtained court documents, filed this week in Los Angeles County Superior Court. Phillippe wants to make a clean break from the marriage.
Witherspoon filed divorce papers last November, citing irreconcilable difference. She asked for joint custody, and also asked the judge to block any attempt on Phillippe's part to get spousal support. Reese also wanted "exclusive use of the family residence."
TMZ first reported that the former couple did not sign a pre-nup, which means their assets acquired during the marriage will be divided even-steven.
Party Favors: Prince Harry: No Iraq, No Clubbing ... Cameron's Angel Returns for "Mindfreak" ... Pacino and DeNiro Team Up Again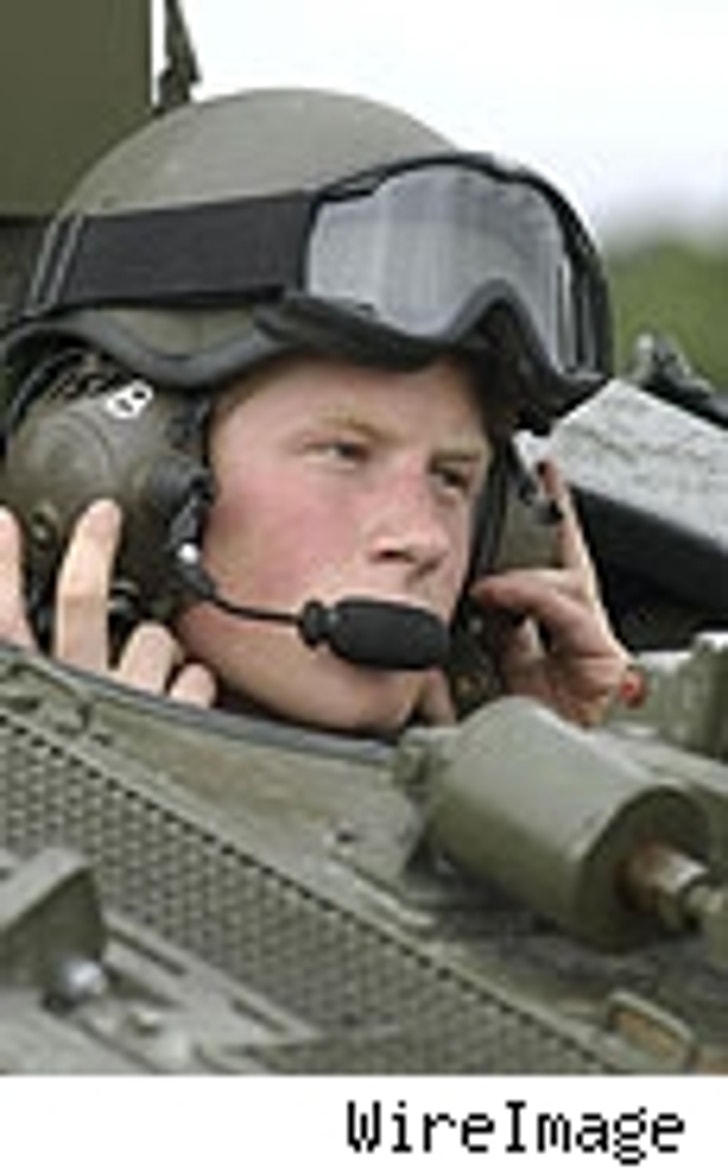 Prince Harry is being held back from serving in Iraq, and now he's being banned from another place he really wants to go -- bars and clubs. Royal and military officers have told Harry to lay off the boozing and carousing while his Army unit is in Iraq, report the British tabs. ... "Postmodern Houdini" Criss Angel -- recently spotted cavorting with Cameron Diaz in Las Vegas -- will also be working his particular brand of magic on his A&E series "Mindfreak," starting June 5. One of his crazy tricks: making a Lamborghini disappear at high speed. ... Al Pacino and Robert DeNiro take their acting partnership to places other than a mere cup of coffee in a diner for "Righteous Kill," a thriller due next year. The pair, who have starred together in two films -- but haven't shared scenes save 6 minutes in 1994's "Heat" -- will purportedly be on-screen together for much of the movie.