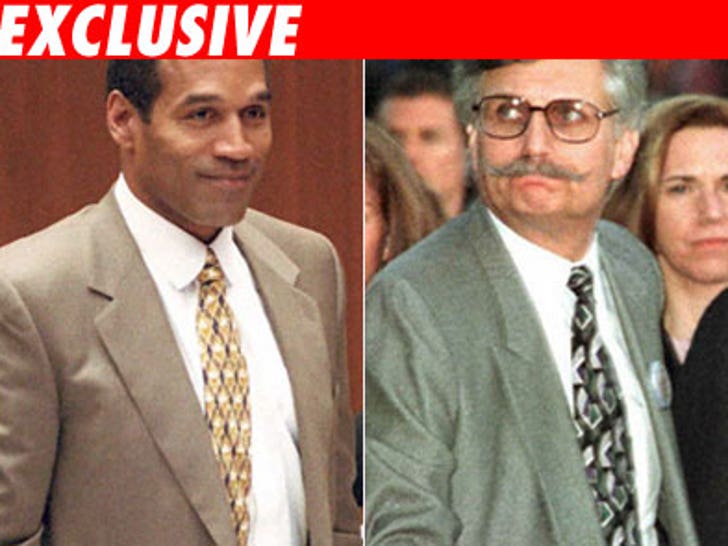 TMZ has triggered a legal war by breaking the story that a sports memorabilia guy is trying to peddle the suit that OJ Simpson wore when he heard the improbable words, "not guilty."

David Cook, the lawyer for Fred Goldman (father of the man Simpson slaughtered), filed legal papers Monday in Santa Monica asking a judge to grab that suit.
As TMZ first reported, Bruce Formong, a sports memorabilia dealer, was trying to sell the suit, shirt and tie for $25,000. Alfred Beardsley, another sports memorabilia dealer, has contacted Goldman and said he will be taking possession of the suit. Beardsley told TMZ on Friday he believes he could turn around and sell it for $100,000.
Cook tells TMZ he's "suspicious" that Simpson is behind the suit sale. Cook is asking for an order that the suit be turned over to the L.A. County Sheriff's Department. The Sheriff is responsible for enforcing court judgments. You'll recall Simpson owes the Goldmans in excess of $30 mil.
Cook says if the suit has been sold, he'll ask the judge to force the seller to turn over the loot.
UPDATE: TMZ just got off the phone with Alfred Beardsley. He said he had a conference call this morning with Cook and Kim Goldman. Beardsley says he plans to acquire the suit, and the trio talked about the Goldmans getting a percentage of the sale to help satisfy the outstanding judgment. The court could engineer the ground rules tomorrow.