The Z List - This Week's Biggest Losers 06/02/07
Meteorologically speaking, this weekend marks the official beginning of "June gloom" in Los Angeles, a period during which each day begins with a deep fog. But some celebs chose to get an early jump on the foggy phenomenon.
Kobe Bryant: During a week when Cleveland Cavaliers star LeBron James logged one of the greatest playoff performances in NBA history (as well as classiest post-game press conference), KB went public with his whining and clanged one off the respectability rim not once, or twice but ... oh hell, who's counting anymore? It all ended with Lakers owner Jerry Buss making time (before his annual vacation in Italy) to assure his star that all efforts will be made to turn the team into a contender again. And sure enough, rumors were flying at press time about a possible trade involving Indiana Pacer Jermaine O'Neal. But wait ... does Kobe really want to shack up with another guy named O'Neal? Doesn't he remember what happened last time, all of this week's Shaq rift denials notwithstanding?
Al Gore: With Lilo banking PSA, coke and DUI headlines, and Paris booking stylists for Tuesday's prison premiere, and Britney allegedly barfing up a storm at Sky Bar, the former Vice President's plea for headline news sanity has been resolutely drowned out. Gore has been hot and heavy on the talk show trail to promote his new book, "The Assault on Reason," bemoaning the fact that Hollywood meltdowns are a hotter topic than global warming. But until Lilo crashes a Prius, Paris sews her own hemp clothing, and Britney recycles her shorn hair, all those disenfranchised young voters aren't going to have any reason to care about reason. At this point, the only thing that might be able to trump the terrible trio is a Gore-DiCaprio ticket.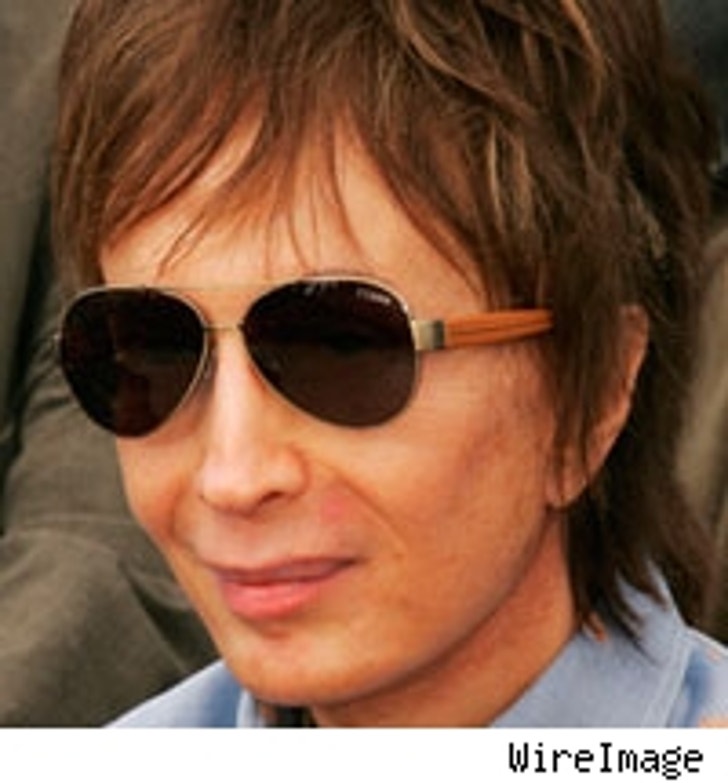 Michael Cimino: With another Cannes Film Festival now in the books, determining the biggest loser is pretty much a "merde shoot" (that's our informal translation of crap shoot). Was it the corps of international journalists that Roman Polanski took to task for their dumb questions at a press conference, bolting for lunch after blaming "the computer" for their low critic IQ? No. Was it the anti-Michael Moore blogger who found out for sure that his nemesis was the one responsible for anonymously paying for a year's worth of health insurance? No. For our francs, the biggest loser was "Heaven's Gate" auteur Michael Cimino, whose three-minute contribution to a special 60th anniversary compilation film was roundly booed by those low IQ critics. Might be time for the 68-year-old auteur to park it in the south of France year-round.
Stewart Copeland: The Police drummer has a thing or two to learn about 21st century fan coddling. After the band's second arena concert performance in Vancouver, where the reunited group kicked off their gargantuan, sold out world tour, Copeland logged on to StewartCopeland.net and sent out a careless S.O.S. He dubbed the Wednesday GM Place performance "lame," and instantly sullied the memories of that night's 20,000-plus fans by trashing the group's off-kilter performance of many of its greatest hits. "Screw it, it's only music," Copeland wrote, but tell that to the folks who forked over major Canadian coin to B.C. scalpers. Here's a tip, Stew: after tonight's concert in Edmonton, stay away from the laptop.
Eminem: With the lingering unpleasantness of a second divorce from his first wife, the rapper got bitch-slapped this week by none other than the Thing of Pop. Thanks to a deal through Sony/ATV, Michael Jackson is now part-owner of a $370 million song catalogue that includes several by Eminem. While Jackson may think that a cover version of "The Real Slim Shady" is the perfect way to get back at Eminem for making fun of him once upon a time in "Just Lose It," we still think it's not as bad as the idea of these two teaming up for a ghetto remix of "Ivory and Ivory." They say bad luck comes in threes, so after this and the Ducks dumping the Red Wings, Detroit might want to get ready for the Pistons getting bounced out of the playoffs on Sunday.