More Legal Car Trouble For Lindsay
More Legal Car
Trouble For Lindsay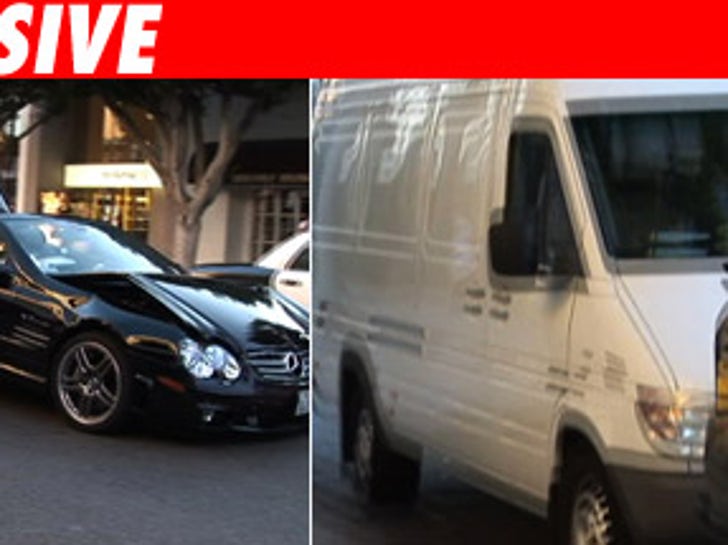 TMZ has learned Lindsay Lohan has been sued for crashing into a parked van.
The accident happened on October 4, 2005. Lohan had left the Ivy restaurant on Robertson Blvd. in Beverly Hills, driving her jet black Mercedes. She was tearing up Robertson when she struck a vehicle that was making an illegal U-turn in front of her. Her car then crashed into the parked van owned by the plaintiff.
At the time, Lohan's rep said the paparazzi were chasing her. Some witnesses say she was just goofing and speeding. The L.A. County Sheriff's Department issued a statement saying, "Preliminary investigations have revealed that paparazzi were not a factor in the traffic collision..."
If Lohan was driving recklessly, she could be responsible for hitting the van, despite the U-turn that triggered the crash.

Grandeur, Inc., the owner of the van that was struck, filed suit on May 18 in Beverly Hills Small Claims Court for $3,624.84. The case is pending.
Florian Loeckle, the CEO of the company that owns the van, told TMZ before filing suit, he sent Lohan a letter asking her to pay his repair bill, but got no response. Loeckle added, "Apparently, in Los Angeles, if you're a celebrity you can do this stuff without getting in trouble."
A rep for Lohan had no comment.