Britney Claims Her Rehab Was Bogus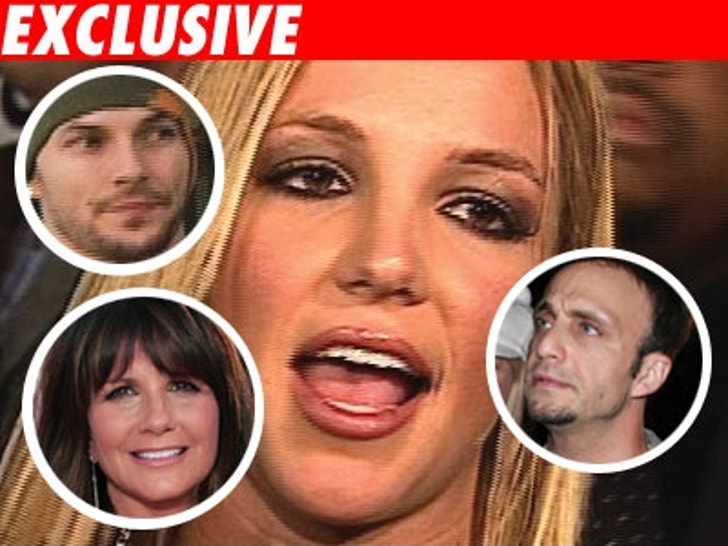 Britney Spears feels totally betrayed by her mom, her soon-to-be ex husband, her former manager and Promises, the rehab facility she called home for nearly a month. In short, she claims she never had a drug or alcohol problem but was railroaded into rehab.

Sources tell TMZ that Lynne Spears, Kevin Federline and then-manager Larry Rudolph all pressured Britney to check herself in. We're told Spears acknowledged having emotional problems after her second child was born, but strongly maintained she did not have a drug or alcohol problem.
Nonetheless, multiple sources say Federline threatened to go public by going to court to wrestle custody from her if she didn't go to rehab. Sources say Spears could not withstand the pressure from her mom, Federline and Rudolph, and checked into Promises last February 20.
We're told eventually the professionals believed Spears suffered from post-partum depression, made worse because she stopped taking Prozac. She was also emotionally crumbling because of a messy divorce and intense media scrutiny.
After leaving Promises, as paparazzi waited for the golden shot of Britney drinking again, she began getting angry that she was at a rehab facility in the first place. Britney and her assistant, Allie Sims, called Promises multiple times, asking for a copy of the report showing that she tested dirty for drugs and/or alcohol when she checked in.
We're told it took several days to get an answer. Only two reports were sent to Britney's rep, both showing no drug or alcohol use whatsoever. Most shocking, the first report was dated March 7, 15 days after Britney checked in.
Sources say one of Britney's reps then called the facility and asked for any evidence of a dirty test, but she was told there was nothing in the file. The question -- if the first test was taken more than two weeks after Britney checked in, how could they treat her if they didn't know the problem?
Britney fired Rudolph and has now drawn a line in the sand with her mom. As for Federline, we're told he's threatened to go to court and question Britney's fitness as a mom every time there's a disagreement. Spears, who is extremely protective, does not want to expose her kids to a public battle, so she's caved on many of his demands.
We're told Britney's legal team has repeatedly asked to have a "private" judge handle disputes in a private office (that's the M.O. of her divorce lawyer, Laura Wasser, in celeb divorce cases), away from the cameras, but Federline has insisted that everything be handled at the L.A. County Courthouse, where the media could record their comings and goings.
TMZ spoke with Dr. Donna Markus at Promises but she said, because of patient confidentiality, her facility had no comment.
Larry Rudolph and Lynne Spears could not be reached for comment.