Carol Channing Ripped Off in Hollywood!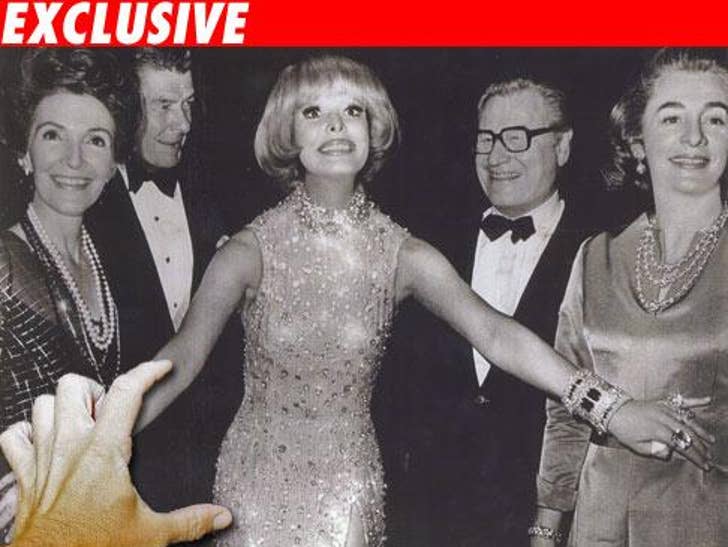 Hello Dolly, and gimme dat dress!

LAPD Hollywood Division is currently on scene at the Hollywood Renaissance Hotel, where they were called on a report of stolen clothes -- from Broadway legend Carol Channing (seen here with the Reagans and Rockefellers).
According to Carol's rep, the 86-year-old Channing arrived at the hotel with her husband Harry Kullijian between 12:30 and 1:00 PM, carrying several pieces of luggage. As they were checking in, a thief made off with one of their bags that contained some a very important -- and historic-- property!
Carol's rep tells TMZ that inside the suitcase, a small black roller bag, was the sparkling "diamond dress" (seen in this picture) that Channing famously wore as Lorelei Lee over 700 times in the stage production of "Gentlemen Prefer Blondes." There may come a time when a lass needs a lawyer!
The valuable garment, which originally had long sleeves, was scheduled to be photographed and then sent to the Smithsonian to be exhibited. Luckily, her 1964 Tony award for "Hello Dolly," which she is also donating to the museum, was in another bag.
She's currently rehearsing for a performance this weekend at the Hollywood Bowl. When asked how Carol was doing, he said, "Carol refuses to focus on the negative. It affects her work."
The hotel surveillance camera has a shot of a person of interest -- which has been given to police.