Courtney Love: Death Becomes Her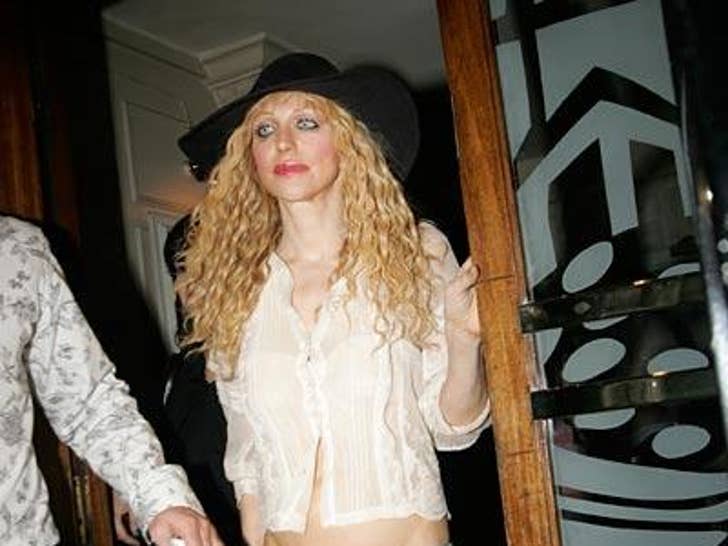 Is this Courtney Love or the corpse of Goldie Hawn in "Death Becomes Her"?

The rocker, snapped in London yesterday, borrowed the midriff from a Resusci Annie CPR mannequin, crazy eyes from Chuckie, and hair from Seattle Widow Barbie! Her middle-aged Rubbermaid Olsen twin look is capped off by an appropriately witchy hat.
To top off her zombie look , Courtney added a graveside flower to her waist! Flores para los muertos!

Tanya Tucker Passes the Torch
Country legend and sometimes train wreck Tanya Tucker was a long way from Tuckerville last night. Our cameras caught the singer with her daughter Layla at Mr. Chow.
The 8-year-old songbird was encouraged by Mama Tucker to sing a little ditty. Like a good girl with refined Southern manners, she spit her gum into mama's hand and obliged. Ding dang, y'all!
Too bad BritBrit wasn't there to see how it's done.
Dr. Drew: Britney = Anna Nicole?
Include Dr. Drew Pinsky in the list of people who are worried about Britney Spears after her VMA meltdown this week. In fact, Dr. Drew takes it one step further by comparing Brit to another famous blondewreck: Anna Nicole Smith!
TMZ cameras spotted Dr. Drew at an Emmy gift suite in Hollywood today (Why was he there? No clue). When asked about BritBrit, the Doc answered, "This is a young woman we're watching unravel. We're gonna have another Anna Nicole Smith on our hands."
Does that make K-Fed the new Larry Birkhead?
Xtina: Pop Star Pops Up Popping Out
A radiant Christina Aguilera and chinless hubby Jordan Bratman were spotted having dinner for three at Toscana in Brentwood, Calif. last night.

According to reports, Xtina had a little trouble sliding out of the car, but then stood up to reveal her blossoming belly full of kisses. Christina will be performing a duet with legend Tony Bennett on this Sunday's Emmy Awards show on FOX.