TV Legend Gary Collins Busted for DUI Smash Up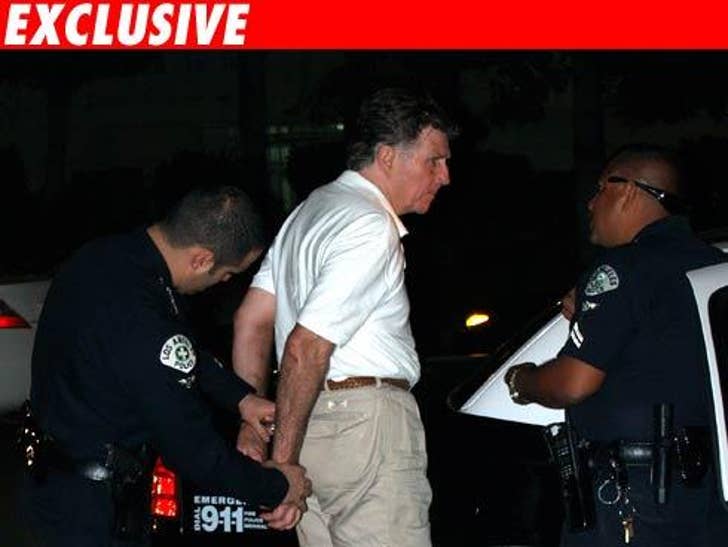 TMZ has learned that legendary TV host and actor Gary Collins, 69, was arrested in an L.A. suburb last night on suspicion of drunk driving after sources say his blood alcohol level was over twice the legal limit.

Witnesses tell TMZ Collins was driving his black Ford Explorer northbound on Kester Ave. in Sherman Oaks, Calif. around 5:30 PM when he slammed into a blue Toyota driven by an 80-year-old man that was making a left southbound onto Kester Ave. A witness says that Collins was traveling at least 60 mph when he slammed into the Toyota, causing the car to spin around into oncoming traffic. The collision caused Collins' Explorer to lose control and travel into oncoming traffic, where he smashed into two cars parked on the other side of the street.
Witnesses tell us the driver of the Toyota was rendered unconscious, and had to be pulled out of the back passenger door by paramedics who arrived on scene, and was transported to the hospital.
According to witnesses, Collins said he needed to leave the scene, but he was told by bystanders that he should stay, as someone was seriously injured and he could be charged with hit and run. Paging Orlando Bloom!
When police arrived, we're told Collins was given a field sobriety test, which he failed. Cops tried to get Collins to perform a Breathalyzer test -- we're told four times -- but Collins claimed he was hard of hearing and unable to understand officers' instructions. After the fourth time, a witness tells us cops were exasperated with Collins' cagey behavior and arrested him, placing him in the back of a police cruiser. We're told "you could smell [Collins] from five feet away." Cops then administered a blood alcohol test at the station.
Collins was booked into the Van Nuys Jail, and according to the L.A. Sheriff's Department website, was released last night just before midnight on $40,000 bail.
Gary is currently hosting "Now Playing with Gary Collins" on Comcast Cable's Retirement Living TV, featuring experts in gerontology and senior lifestyles. Collins is best known for his work as the Emmy-winning host of "Hour Magazine" and "The Home Show."
Collins was arrested in Mississippi in 2002 for DUI, but was found not guilty of the charges. Collins and wife Mary Ann Mobley, Miss America of 1959, celebrate their 40th wedding anniversary next month.
This just in: Gary was also cited by the Fashion Police!