Assistants to Jon Peters: Sue You!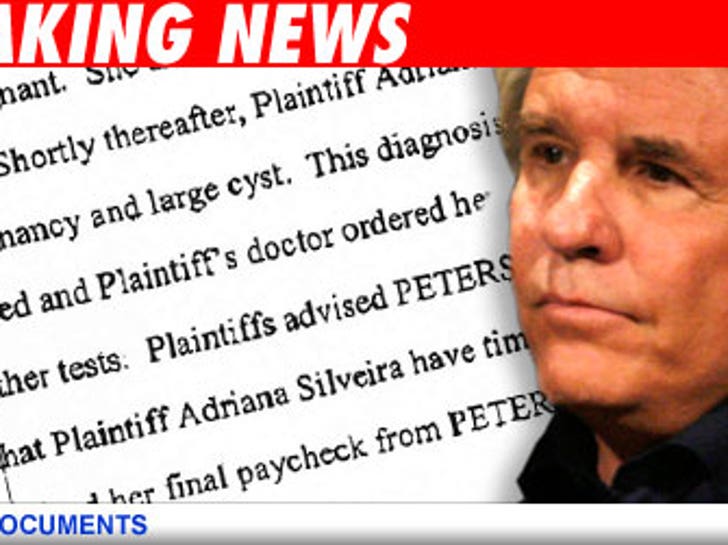 "Superman Returns" producer Jon Peters allegedly fired two female employees -- one for refusing to have an abortion and the other for refusing his sexual advances -- according to two separate lawsuits filed Monday.

According to documents, Adriana Silveira says she was hired in December of 2005 to work at Peters' Malibu home and office. She says she discovered she was pregnant in June of 2006 and was immediately put on one week of bed rest by her doctor because of the precarious nature of her pregnancy. She says she asked Peters for the time off, but got canned instead. She then claims two weeks after she was let go, Peters told her husband Andrew, who was also working for the producer, that his wife should have an abortion if he "wanted to keep his job." When she and her husband refused to terminate the pregnancy, Silveira says Peters then fired her husband by e-mail.
In the other suit, Blanca Hernandez says Peters hired her in July of 2005 and "systematically sexually harassed [Hernandez] on nearly a daily basis."
She claims Peters touched her on the "breasts and buttocks and waist", tried to push her into bed while he was naked, called her breasts "pillows" and asked "her to have sex in exchange for money." Hernandez says when she complained in July of 2006, she was axed. She says she was told if she reported Peters to authorities said "her and her daughter would be murdered."
Hernandez says after she filed a complaint against Peters with the California Department of Fair Employment and Housing, he falsely accused her of stealing a pricey $10,000 lamp.
Peters is a former hairdresser who inspired Warren Beatty's character in the hit film, "Shampoo." Last year another assistant, Shelly Morita, also sued Peters, claiming she was "harassed, verbally abused, and intimidated" so much she was forced to resign from her position. A rep for Peters could not immediately be reached for comment.