Mischa Messes Up -- Busted for DUI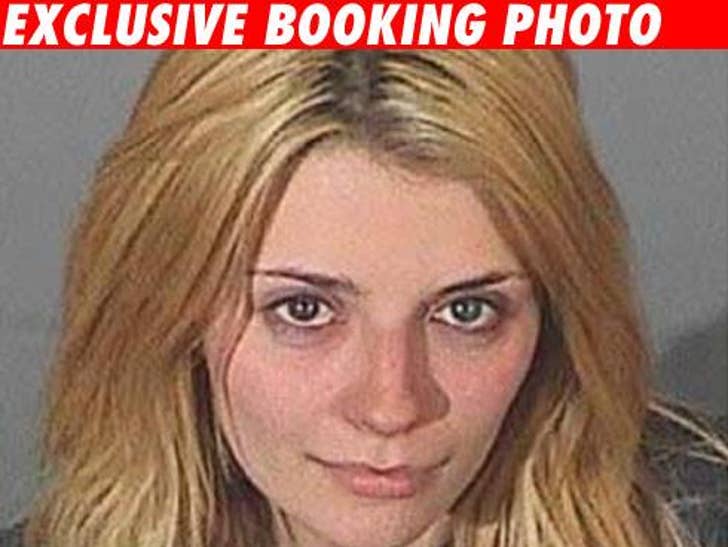 TMZ has confirmed that Mischa Barton has been arrested for DUI, possession of illegal narcotics and driving without a valid license.

According to a press release issued by the L.A. County Sheriff's Department, the former "O.C." star was pulled over early this morning around 2:45 AM as she was driving in West Hollywood, Calif. Cops say she "was seen straddling two lanes of traffic and failed to signal when making a turn." When deputies pulled her over, they determined that she "was an unlicensed driver and was driving while under the influence of an alcoholic beverage."
Barton is still in custody, being held on $10,000 bail. The L.A. County Sheriffs' Inmate Information website called her "Mischa Burton." Sources tell us that Mischa has been "very cooperative" and "no trouble at all." She's a good bad girl!
Paris in Poorhouse After Gramps Gives $$$ Away?
All the coin that Paris thought she was going to get from her Hilton inheritance? It could be gone, gone, gone -- and it's all her grandfather's fault.
Barron Hilton announced Wednesday that he would be giving 97 percent of his $2.3 billion fortune to charity, specifically to the Conrad N. Hilton Foundation, putting Paris' reported $30 million windfall in some doubt. (There could be between $70M and 130M left, presumably for the family.)
It's said by a biographer that Grandpa Barron is "embarrassed" by Paris' behavior and supposedly even threatened to yank her inheritance entirely a few years back. Paris couldn't be reached for comment on the development.
TMZ's Max Gets Fergie Scoop
Yesterday, TMZ broke the news that Fergie and Josh Duhamel got engaged -- and you'll never believe how we got the story! To see how this all went down, check out the piece from TMZ TV.
Scary Ex-Hubby Is Not-So-Nice Spice
TMZ has learned that a custody battle has erupted between Mel B and her former husband over their almost 9-year-old daughter, Phoenix, and whether mom can take her on the road. Can't take my baby, Spice!

We're told dancer Jimmy Gulzar refused to alter his visitation schedule with the working mom -- and custodial parent -- Scary Spice aka Melanie Brown, while she's on tour with the Spice Girls. Now TMZ has obtained documents supporting Brown's desire to take Phoenix on the road with her. Los Angeles County Superior Court Judge Robert Schnider has ordered that little Phoenix can go on the road with her mom as she tours the world, thus denying Gulzar's attempt to block her from traveling. Your mum's your best friend!
Mel, who is represented by powerhouse attorney Goldie Schon, still maintains sole legal and physical custody of Phoenix, and Gulzar will have scheduled visitation over the next few months and on the little girl's birthday.
Brandy Crash -- Dead Woman at Fault?
TMZ has learned the hang-up in deciding whether to file vehicular manslaughter charges against Brandy is that Brandy may have been a victim, not a culprit.
A CHP source tells TMZ the woman who died in the car accident involving Brandy actually struck the vehicle in front of her before Brandy made any contact. The law enforcement source says Awatef Aboudihaj, the woman who died, struck the car in front of her -- which was going 65 mph, and then slammed on her brakes. We're told the sudden stop caused Brandy to hit the dead woman's car.
What's more, L.A. County Coroner spokesperson Captain Ed Winter tells TMZ that toxicology reports show Aboudihaj had "slight traces" of marijuana in her system at the time of the crash.
The L.A. City Attorney has until the end of the business day on Friday to decide whether to file criminal charges against Brandy -- that's when the one-year statute of limitations runs out. Sources tell TMZ there is significant division in the City Attorney's office, and a decision still has not been made. The problem for the City Attorney: if they file manslaughter charges, they have to prove Brandy did something negligent -- and we're told that could be difficult if not impossible.

Stay tuned...