Blue Men Stuck a Camera Down My Throat!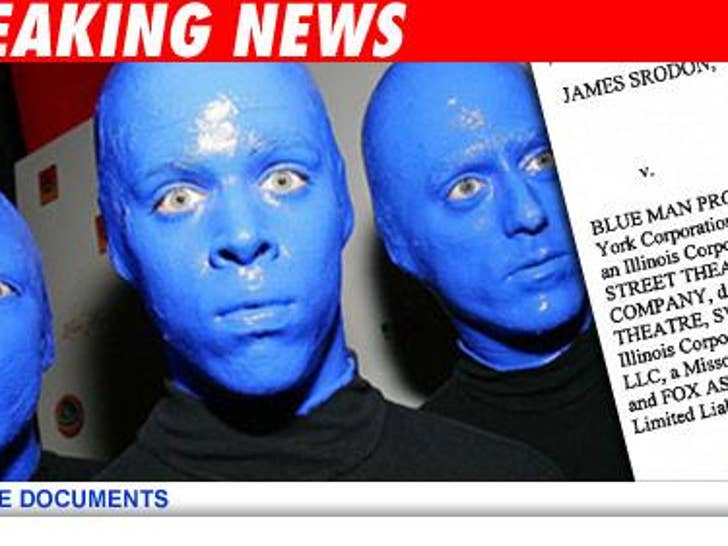 An audience member at the Blue Man Group show is suing, claiming they stuck a dirty camera down his throat during their show. What?

TMZ has obtained a lawsuit in which James Srodon claims while he attended a 2006 show, he was "forcibly restrained" in his seat while the blue men shoved an "esophagus cam" into his mouth. According to the suit, the esophagus cam is routinely dragged on the floor during the show, which could contaminate it with food and liquid. James claims he now suffers from nightmares.
Srodon is seeking over $50,000 in damages.
UPDATE: Blue Man Productions issued the following statement: "We are shocked and surprised to learn of the allegations made in reference to one of our comedic pieces, "Esophagus Video." At the time of this statement, we have not been served any legal papers.
"Our well-known audience participatory pieces, such as "Esophagus Video," have been performed for over 15 years, in over 50,000 performances, to the delight of over 12 million audience members around the world. We are disappointed that this false claim forces us to reveal the truth behind one of our most popular theatrical devices.
"'Esophagus Video' is simply an illusion. A camera is held in an actor's hands, the actor's hands are placed near an audience member's mouth (not on or in). The live-feed video screen then switches to a pre-recorded medical video, resulting in the hilarious and absurd illusion that the audience is peering down an individual's esophagus. Because the camera never enters the mouth, the execution of this illusion could not possibly put anyone at risk of injury."