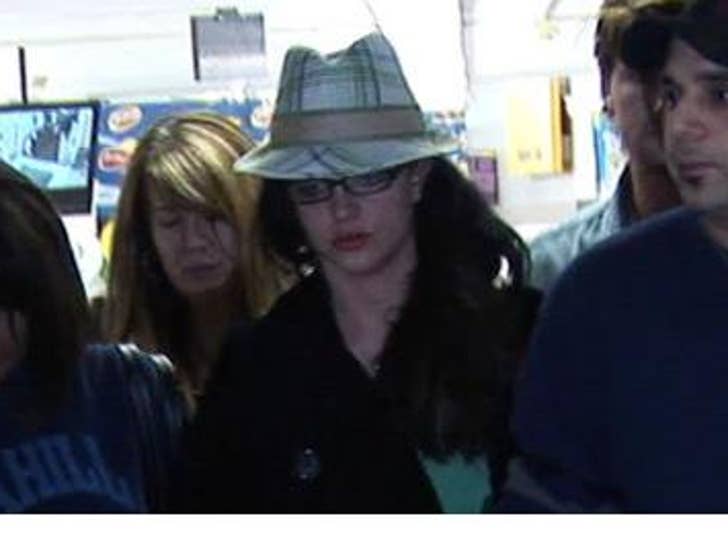 TMZ has learned that it's all-out war in Britney Spears' family.

As TMZ has been reporting for weeks, people behind the scenes in Britney's life have been gearing up for an intervention -- which is now officially underway. There is a lot of behind-the-scenes anger surrounding the intervention, and the anger is directed at one Sam Lutfi, Brit's constant companion.
Yesterday, Sam called TMZ's Harvey Levin, with Britney by Sam's side, and told us Britney's family "barged in" to her home Monday night. Sam said of the family, "They have an agenda. Their agenda is jealously because they don't fit in. I do. They see her three times a year."
Britney was standing by the phone during Lutfi's conversation with Levin. Lutfi claimed he did not force Britney to buy a new Mercedes yesterday as the family claimed. He asked Brit, "Did I force you to buy a car." In a heavy southern accent she responded, "No." He continued, "Do I ever bug you." She replied, "We argue."
Lutfi said Britney's mom is fine with him -- it's her dad who's problem, claiming he's been verbally abusive to Brit and physically abusive to Sam. Family sources tell TMZ they believe Sam is a "megalomaniac" who is motivated by "evil."
Ruben Not Peachy with Show Promoter
Fallen "Idol" Ruben Studdard can barely find a place to sing for his supper these days, and now he's suing a concert promoter called Peachez Inc., and he's asking for more than lunch money!

In a lawsuit filed in New York Supreme Court, the "Idol" star wants $45,000 from Peachez, alleging breach of contract. The Dallas-based company describes itself as "a specialty marketing company" with clients in the "entertainment industry." We've called Ruben's lawyers and Peachez, but so far, we haven't had a response.
It's all going downhill for Ruben, who just got canned by his record label after his latest album tanked.
"Gladiator" Auditions -- Wimps Rule!
A line snaked around the block at Gold's Gym in Venice a few days ago, as thousands of potential victims auditioned for the second season of "American Gladiator."

Check out the story from TMZ TV and check your local listings for airtimes.

Singer Peter Gabriel: 'Memba Him?!
Former Genesis frontman Peter Gabriel hit the big time in the '80s with hits like "Sledgehammer" and "In Your Eyes." Guess what he looks like now!

Oprah -- Big, Bronzed, and Naked
Move over King Tut -- it's Queen Butt!

Artist Daniel Edwards has created a bootyful bronze sculpture of a curvaceous and robust Oprah Winfrey, called, "The Oprah Sarcophagus." Edwards previously created a life-sized statue of Britney giving birth, and one of a dead Paris Hilton.
It's safe to say Edwards isn't one of Big O's favorite things!
Britney Being Treated for Her Disease
If you think Britney Spears doesn't give a crap about getting help for her condition, think again.

Multiple sources tell TMZ Britney has seen numerous doctors. We know that she's seen a new psychiatrist who has come to her home every day this week and that she's on medication to treat her bipolar disease. We also know doctors have indeed concluded she suffers from bipolarity.
Britney has seen doctors who have been referred by other doctors, plus doctors who have been referred by celebrities Britney knows, and doctors referred by her lawyers, family and friends. We're told the process has been excruciating for her, partly because her disease is severe.
Sources tell slightly different stories about the efficacy of the medication. A friend says when Britney takes her medicine she is like "a different person -- normal and sweet." But she takes her meds for a while and then feels as if she can live without it -- so she stops taking them -- and her condition quickly deteriorates. But a professional tells TMZ flatly, "The medication just isn't working."
That same professional tells TMZ, "She's really trying. Whether it works -- we'll have to see." That person also says it's extremely frustrating when the media shows video of Britney out on the town acting crazy, adding, "She has a disease. Sometimes when you see her she's in the middle of an episode. It's like mocking someone with Down syndrome."