Lawyers Put the CON in Connery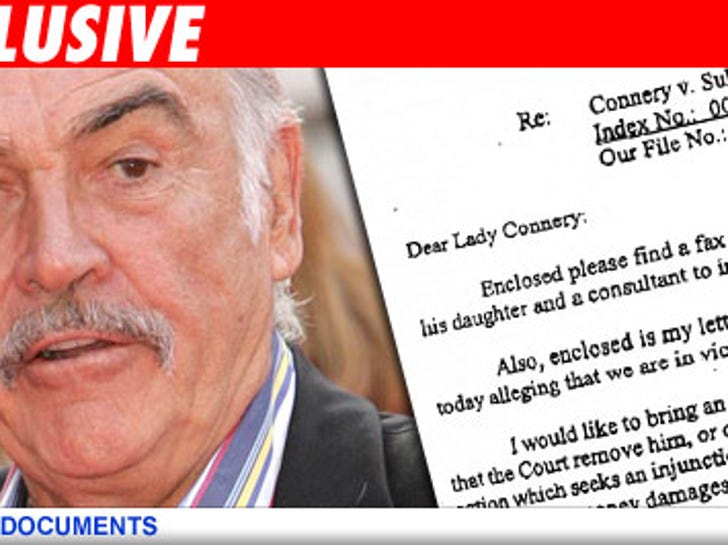 Sean Connery and his downstairs neighbor have been battling in (and out of ) court for years -- but it's their lawyers who appear to be doing all the dirty work!

Connery and his Manhattan neighbor, Burton Sultan, have been suing each other over their Upper East Side townhouse. Sources tell us Connery wants the townhouse all to himself and has been trying his damnedest to get Sultan to move. TMZ has obtained a controversial 2004 letter from Connery's lawyer, Robert Lynn, to Connery's wife, Lady Micheline, in which he tells Mrs. Connery, "I think if we tie him (Sultan) up in several lawsuits, hopefully this will either permanently subdue him, or drive him out of the building." This ain't Mister Rogers neighborhood!
Unfortunately Sultan's former lawyer, Irving Singer, may not have acted any better and may have been bribed by Lynn. In an affidavit under oath dated February 12, 2008, Singer's former paralegal, Karen Milazzo, claims Lynn offered Singer one million dollars to settle the case -- and "not for the benefit of the clients." Milazzo alleges she overheard Singer tell Lynn, "I will not do it for a million dollars. I need one and one half to two million dollars to retire."
In transcripts from a Nassau County, New York court hearing on February 13, Singer denies that he took any money from Connery's lawyer, but seems to confirm that money was in fact offered.
TMZ contacted Lynn for comment, but have not heard back.