Seacrest -- From Backstreet to Wall Street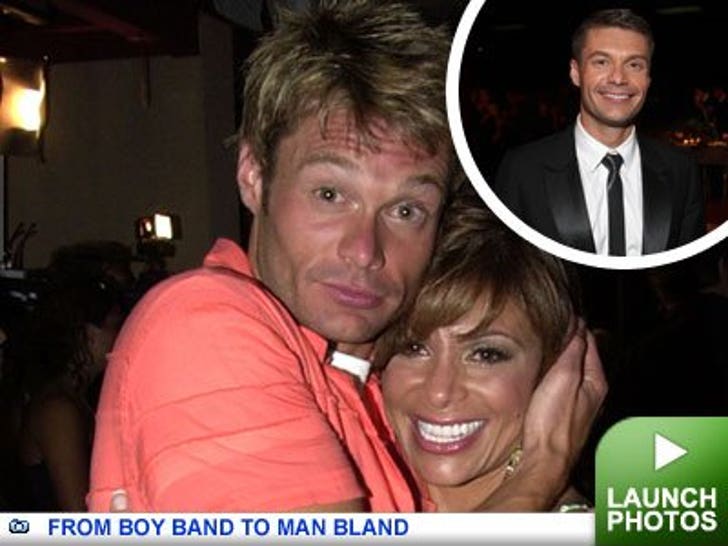 What has more highlights, tanning cream and flashy outfits than a "Dancing with the Stars" contestant? Ryan Seacrest! Well, at least he used to. Ryan now looks like Mini Merv Griffin, all slicked out on shiny suits and white shirts. Oh yeah, he's also a mogul like Merv.
TMZ's Harvey Levin confronted Ryan on his radio show yesterday, asking why, why why? Ryan said, "Cause I think when I started on that show, I wasn't quite sure what you were supposed to look like on TV. And I thought, 'Well you got to do things to make yourself stand out on TV. "
Mr. Toad's Wild Meth Ride
The girl who played Hilary Duff's BFF on the hit show "Lizzie McGuire" pled guilty to possession of crystal meth last year -- but managed to keep the whole thing under wraps.
Lalaine Vergara Paras, who played Miranda Sanchez on the Disney Channel show, was popped back in July and charged with felony possession of methamphetamine. But before the plea there was lots of drama. Paras was a no-show for a court appearance and the judge issued a $50,000 bench warrant for her arrest -- but it was recalled when she showed up in February.
Paras pled guilty to the crystal meth charge, but her record will be expunged when she completes a drug-treatment program. She's enrolled in the Asian American Drug Abuse Program.
Calls to Lalaine's reps were not returned.
BTDubs, this picture was taken two weeks ago at Walt Disney World.
Shauna Sand: Hotter than Molten Silicone
All those long hours in the doctor's chair have really paid off for Shauna Sand.

The 36-year-old mother of three oiled up, stuffed her bronzed, gorgeous, re-engineered girls into a tiny orange bikini and gave Miami beachgoers a pole-free stripper-worthy peep show on Wednesday. In case of emergency, Shauna may be used as a flotation device.
Lorenzo may not want her in Florida, but if this is a preview of what we can expect -- FedEx those Lucite streetwalker heels to Dade County, stat!
Dr. Phil's Moment of Truth
It's sweeps again in television land and since he can't exploit Britney Spears or a teenage girl accused of being the ringleader of a high school beatdown -- Dr. Phil has turned to ripping off a popular reality show.

TMZ TV exposed how the good doc's using a polygraph, a child molestation victim, and fancy graphics all in the name of ratings.
Bobby Ewing on "Dallas": 'Memba Him?!
Heather to Denise: I Can Stomach You Now
Former BFFs Heather Locklear and Denise Richards are both in Hawaii this week -- but that's clearly where the similarities end.

Heather's 46-year-old rockin' bikini bod proved she's still hotter than any husband-stealer 10 years younger.
Meanwhile, 37-year-old Denise will just have to be content with all the extras that come with being a wannabe reality TV star.
Winehouse Will Rot In Jail Today
London is safe from Amy Winehouse's killer weave, at least until Midnight. We were just told the London po-po will keep her behind bars at least until the clock strikes 12.

Scotland Yard confirmed to TMZ they've arrested Amy on suspicion of assault....that's always something you should worry about when you allegedly headbutt a guy outside a bar where she had been shooting pool. She could do six months if convicted.
Paris Involved in Another Hit and Run
Paris and Benji turned a simple nightclub exit into a police matter last night after their car ran over a paparazzo's foot.

As the snappers swarmed PBandJ's ride, a loud yelping sound can be heard as Benj drove right over one photog's checkered shoe-covered foot outside Foxtail. After the rollover, Madden checked out the situation and took off. But just minutes ago, TMZ learned the treadmarked photog is currently dealing with the Los Angeles Sheriff's Department over the incident. No word on whether Benji and Paris are even aware of that yet. Good morning, lovers!
UPDATE: The photographer just left the L.A. Sheriff's Department in West Hollywood, where he filed a hit and run report.