"Dancing With the Stars" off the Gaydar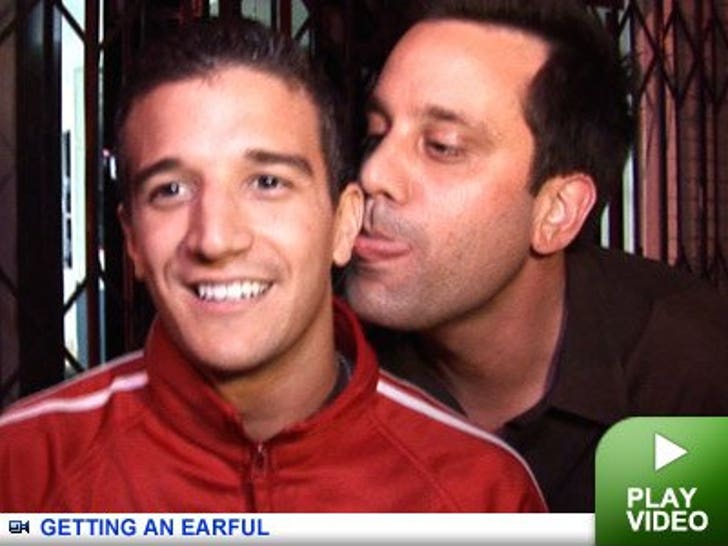 So what are the chances you can pull a bunch of professional dancers together and none of them are gay? We're thinkin' the odds are about the same as Britney getting mother of the year.

But here's the deal ... The dudes on "Dancing with the Stars" are pretty much straighter than your average arrow. Tony is married with a kid and twins on the way. Derek is reportedly doing the dirty dip with Shannon Elizabeth. Mark was doing the horizontal tango with a Cheetah chick. Jonathan is married to a hottie. And there are two other guys.
So here's what our "Dancing" spies tell us. Producers prefer straight, because it creates believable sexual tension on the dance floor and that's what the audience wants. Think of Kristi Yamaguchi doing a rumba with Tommy Tune. Pleeeeze.
These Retin A-list stars need a date with Proactiv stat! Who's oozing with more than just cash and fame? Click to see.

Brang, Mick and Clint: Who Would You Rather?
You're at a restaurant, minding your own beeswax, when you look up at the next table -- Mick Jagger, Brad, Angelina and Clint Eastwood. Who you gonna stare at?

Last night was your chance as they were all at the same table in Cannes. These are hard choices people.
And Starring ... Audrina's Hills!
Audrina Patridge is making her feature film debut in a straight-to-DVD sequel of a movie no one saw in the first place. Based on these photos, it won't be Audrina's acting on display -- and that's how it should be.

Jackson Poker-Faced on Vegas Gig
Michael Jackson could become the next Celine Dion, and we're not just talkin' wardrobe.
We've been able to connect the dots and it seems the guys who just bailed Jacko out of Neverland debt may be angling to put him on stage in Vegas.
The money men run Colony Capital, a group that owns the Las Vegas Hilton. Colony just forked over the green M.J. needed to keep Neverland out of foreclosure.
So, you ask, what's in it for Colony? We're told Vegas money is on Jackson headlining there and raking a much-needed jackpot. Colony has the venue -- it's where Barry Manilow performed -- and now the leverage to moonwalk his a** back on stage.
Jacko's peeps didn't return our calls for comment.
Golden Girl-on-Golden Girl Action!
Bet you never saw this on the "Brady Bunch!"

Florence Henderson, 74, and Judge Judy Sheindlin, 65, locked lips at Beverly Hills charity event last night.
This is strictly for mature audiences only!
Our Hero Leo Actually Traded Up!
Leonardo DiCaprio really is the king of the world.

TMZ TV honors the only man that could dump Gisele ... for a hotter woman!
The Amazingly Fun, Super Cool Sly Stallone
Just think of how exciting it must be to hang out with Sylvester Stallone.

Now imagine the exact opposite.