Kirstie Alley's Diabolical Diet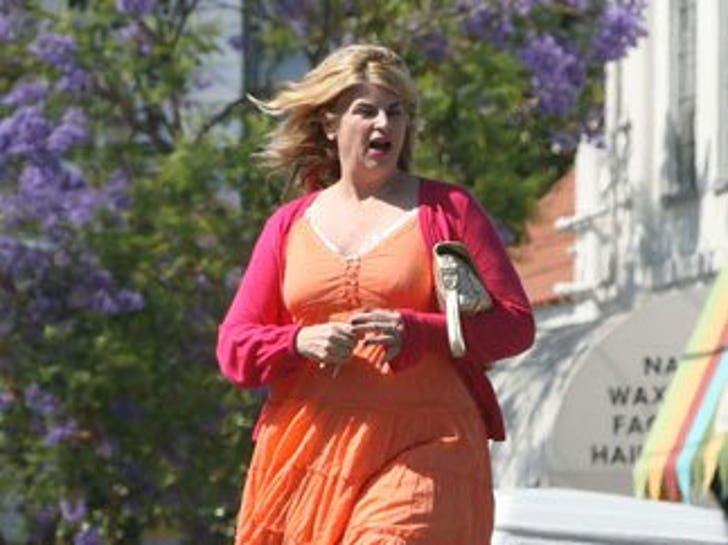 "Fat Actress" star Kirstie Alley clearly hasn't seen Jenny lately, but there could be a Machiavellian reason.

After losing over 75 Scientolopounds on Jenny Craig, Kirstie said she was planning to start her very own slim down system that she'd launch next year. But these days it's clear ... Kirstie isn't taking her own medicine.
But how's this for a theory -- she can't sell a weight loss program if there's no dramatic before and after fresh in people's minds. So she balloons up, then slims down, and then sells tons (you'll pardon the expression) of her magic weight loss stuff.
Cheryl Ladd: 'Memba Her?!
A kiss is just a kiss ... until it is snapped by a paparazzo! And for some of these stars, the kiss isn't quite the same as it is in movies.

Celeb Rehab: Before and After
Sometimes the stars just need a day to collect themselves and relax ... and sometimes they need 30 days! Check out the stars before -- and after -- an extended stay at Hotel 12 Step.

Xtina: For a Good Time, Ditch Hubby!
Christina Aguilera had a crazy night at LAX in Vegas this weekend -- whenever her husband wasn't around.

While the "Dirrty" bird bounced all over her cute blonde friend, Jordy parked in their booth. Even Verne Troyer looked like he was having more fun ... and he was flipping everyone off.

Pregnant Celebs -- Before and After
Some of Hollywood's moms just bounce back after giving birth, but others... Well some of them aren't as fortunate.

Brangy Baby Pics Will Fetch Fortune
The bidding for the Brangelina twins pics has reached a whopping $15 million -- and will probably go a lot higher.

Our magazine spies tell us only PEOPLE and OK! are left standing in the bidding war. One spy says the pics are so valuable they would "print blank pages" the rest of year to get them.
Can a weekly mag actually recoup all that cash? Probably not, but it doesn't matter. The prestige is what counts.
No deal has been inked yet. Brad's peeps didn't return our calls. A PEOPLE rep says, "We'd love to see the photos in PEOPLE. We wish the family well" OK!'s rep refused to address a dollar figure, but admits they'd be "foolish" not to make a play for the photos.
We're told the $$$$ Brad and Angie get will go to charity.