Eddie Haskell: 'Memba Him?!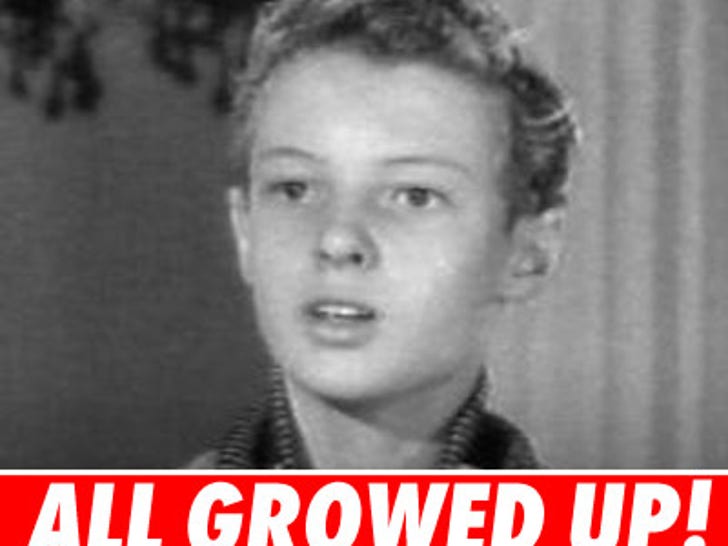 Remember that '80s song "Hungry Eyes"? The guy who recorded it was busted in an epic DUI.

Eric Carmen was popped Tuesday at 7:00 PM in Orange, Ohio after the dude hit a fire hydrant. The first clue he was wasted -- when cops asked him for his ID, he handed them a credit card. Cops then found a half-empty bottle of Grey Goose in the front seat.
Carmen, who was also in the Raspberries ('memba "Overnight Sensation"), blew a .23, nearly three times the legal limit.
We got the dashcam video and it's definitely worth a look at.
Balthazar's Wife -- File Your Own Damn Divorce
Sources tell TMZ Balthazar Getty's wife won't be the one filing for divorce.

We're told Rosetta Millington will not pull the trigger on the marriage and the reasons are, to say the least, interesting. Rosetta is not exactly rolling in cash, nor is Balthazar for that matter. The philandering Getty is getting zilch from the family fortune. He is, however, pulling in a fair amount of money from "Brothers and Sisters."
We're told Rosetta doesn't want to declare the marriage over, which would allow him to separate future earnings from her. She's the one raising their four kids and she feels she's more financially secure if she doesn't file for divorce.
And there's one more big thing. We're told the Getty family is so appalled at Balthazar's affair with Sienna Miller, they are supporting her -- in more ways than one. So why rock the boat?
The Britney Spears Comeback Tour rages on as the conservatorship wonder continues to shock and awe -- kinda sorta.
And her weave is finally starting to look as healthy as she does.
SJP -- Snatched in the City?!
Sarah Jessica Parker was last seen yesterday afternoon, evading paparazzi by jumping into a random VW Bug on the streets of NY.

Anyone with information about her whereabouts, please contact TMZ -- so we can send another camera!

Matt Damon: Palin's No Wall-E
To Matt Damon, having Alaskan GILF Sarah Palin as VP would be like having another "Underdog" -- aka, a "really bad Disney movie."
There's only one problem with that theory: Underage pregnancy would never fly at the Mouse House.
Warren G Regulates in Elevator Breakdown
Getting stuck in an elevator with a bunch of half-naked skanks doesn't sound bad in theory -- until they start freaking out.

Warren G, his entourage and a group of club rats were trapped in an elevator at the Mirage in Las Vegas for just over an hour early Saturday morning. The ladies were shrill, but G played it cool, talking on the emergency phone the entire time.
And how's this for a strange coincidence -- Carey Hart was locked down in an elevator, at the same time, at the Hard Rock in San Diego. Looks like nobody was livin' it up when they're going down.
The Great Cougar Hunt Lawsuit -- MUST READ!!!!
This is the greatest lawsuit we've seen all month -- maybe all year -- and it's all over three chicks who are pissed at being branded "cougars" on national television.
Let's start with the important information. For those unfamiliar with the term "cougar," it's defined as "a sexually cunning 35+ female who is on the hunt for a much younger energetic male," at least according to the lawsuit.
Now onto the controversy: Three women are furious after they went to a club called Chapter 8 in Agoura Hills -- SoCal -- back in 2007 and wound up being featured on a G4 program called "Attack of the Show" -- in a segment called "The Great Cougar Hunt."
According to the suit, the ladies were portrayed as "older women who were attempting to pick up younger men at Chapter Eight, which was described (on the show) as a 'world famous cougar hot spot.' The segment describes cougars as the easiest and most ravenous prey for younger men."
The cougars three respectable ladies claim they were filmed without giving consent, and swear they "were not attempting to meet or 'hunt' younger men, or any men for that matter, on the day the video segment was made."
They also thought it was important to put this line in the lawsuit: "In fact, Plaintiffs do not date younger men at all."
The threesome claims the show was so "highly outrageous and offensive," that they're suing G4 and the two hosts of the show for more than $1,000,000!!!!!
FYI -- nowhere in the lawsuit do the ladies ever mention how old they are -- information that could be vital to the outcome of this highly important, extremely monumental legal battle. Calls to G4 were not returned.
The moral of the story: You mess with the cougar ... you get the claws!