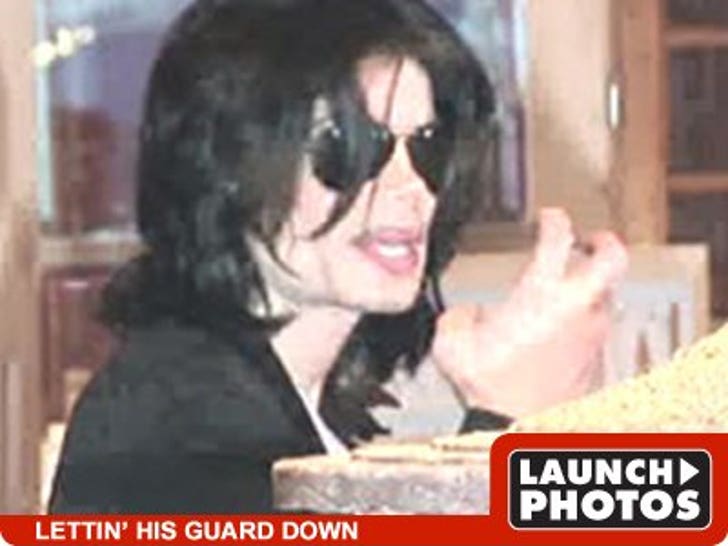 Michael Jackson has come out of hiding ... he was all over L.A. yesterday, spending money, working on his skin and buying antiques -- who said there's a recession?

Jackson, who is famously financially-strapped, went to the offices of his long-time dermatologist in Bev Hills, then hit up a cosmetics boutique for a package of Epicuren Discovery, then headed to Melrose Ave. for a little antique shopping.
Jackson bought a a silver model airplane. His bodyguard did the heavy lifting, dragging it to his SUV. Jackson then drove down Sunset Blvd, with more than 40 paparazzi cars following behind.
Fallon from "Dynasty": 'Memba Her?!
Pamela Sue Martin is best known for playing the original Fallon Carrington Colby on "Dynasty" and Nancy Drew on "The Hardy Boys/Nancy Drew Mysteries." Guess what she looks like now!

Maya Rudolph Goes Barack to "SNL"
Since they've had great success with Tina Fey and Will Ferrell, well placed sources tell us "SNL" is once again bringing back a former cast member ... Maya Rudolph will play Michelle Obama this weekend.
Besides playing Mrs. O, we're told Maya -- who left the show last November -- will once again co-star with Amy Poehler in their "Bronx Beat" skit. Oh my gawd!
Tragically, we're told Tina will not be back playing Sarah Palin on Saturday.
Let's See Tina Fey Do This ...
Club Paradise held it's half-naked, Sarah Palin look-alike contest last night -- where some were hot and others were just a hot mess.

Star Jones says her dee-luxe apartment in the sky is a big mold trap – and, well, she's a lawyer, so guess what she's doing?
Star claims in a lawsuit she's been forced from her leaky, moldy penthouse triplex because it's an "unhealthy and dangerous" place to live. According to the New York Post, she wants $700K because she hasn't been able to live in the pad since March 2006.
Star's had to suffer the indignity and inconvenience of renting a place ... for $17,000 per month.
Michael Phelps Goes to the Hood
Phelps was on the DL at Tao in Las Vegas last night -- trying to keep a low profile by being the only one in the club with a hoodie on.

Probably doesn't help that he's also 6'4".
Britney Patches Things Up with Her Kids
Britney Spears spent some quality time at a pumpkin patch yesterday with her lil' pumpkins, Sean Preston and Jayden James.

For Halloween, Britney is going as a healthy mother of two.