Vinnie Jones in Court to Fight Assault Charges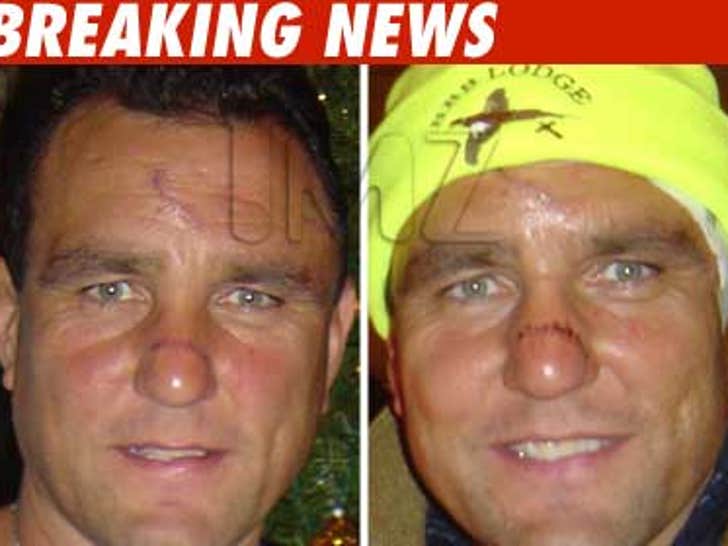 Vinnie Jones just arrived in a Sioux Falls, SD courtroom to face assault charges for last year's bloody bar-room brawl -- the one where he got bashed in the face with a beer mug.
Jones was arrested back in December after security footage showed the actor trying to attack a man near the restrooms of a local bar ... all while Vinnie still had glass still stuck in his face from a pummeling he received minutes earlier.
If he's found guilty on all three charges, Vinnie could do three years in a jail and a $1,000 fine.

UPDATE: 2:07 PM PST: State rests its case. The jury has been dismissed and the judge has informed Vinnie he doesn't have to testify if he doesn't want to.
UPDATE: 1:47 PM PST: A police officer testified that Vinnie told him Barrera said "Have you had enough, old man?" before the beatdown.

UPDATE: 1:01 PM PST: Everyone just watched the security tape -- the one that shows a mangled, bloody Jones going ballistic on Barrera. The owner of the bar where the fight occurred is now on the stand.



UPDATE: 1:01 PM PST: Barrera hit the stand. The jury was allowed to hear the details of his drug arrest, including how much pot he was caught with and that a gun was found at his apartment. Barrera also admitted to selling his Vinnie fight story to the tabloids.
UPDATE 9:55 AM PST: The jury has been selected and sworn in. Earlier, it was made known that the man Vinnie is accused of assaulting, Juan Trevino-Barrera, is currently in jail after pleading guilty to an unrelated drug charge. Good times.

UPDATE 9:00 AM PST: Jury selection has begun. We're told a "very, very tanned" Jones is sitting quietly at the defense table -- and he has no visible scars left from the attack.