New Raid In Michael Jackson Case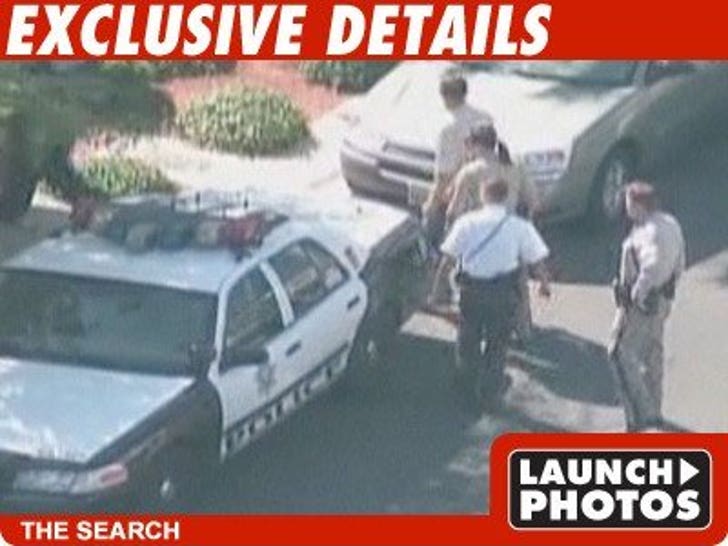 Federal DEA agents served search warrants on Dr. Conrad Murray's Las Vegas home and office today. They're on the hunt for Michael Jackson's medical records, among other things.
Law enforcement sources tell us Dr. Murray confessed to LAPD cops two days after the singer's death ... he administered the powerful anesthesia Propofol to Jackson hours before his death.
We've been reporting for two weeks LAPD detectives believe Dr. Murray administered the fatal dose of Propofol. Our sources say Dr. Murray gave Jackson an IV drip of the drug, which means it seeped into his system over a period of time.
Authorities believe Dr. Murray may have fallen asleep during the IV drip and when he awoke the singer may have already been dead from an overdose of the drug. We're told paramedics found an IV stand with an empty IV bag in the room.
As we have already reported, when cops went back to Jackson's house the Monday after his death, they found a stash of drugs hidden in a closet in the room where Dr. Murray was staying -- including the drug Propofol.
Authorities believe Propofol is the cause of Jackson's death.
DEA Agent: Dr. Murray at Home During Search
A DEA agent just spoke to the media outside of Dr. Conrad Murray's office in Las Vegas -- saying Murray was at home the whole time his house was being searched today by a pile of law enforcement agents.
The Assistant Special Agent in Charge said law enforcement officials were now moving on from Murray's home to search his office. The ASAC said the warrants executed this morning were for documents -- meaning anything from papers to computer hard drives.

Stay tuned...
Rowe Surfaces At Dr. Klein's Office!
How's this for irony? Debbie Rowe just showed up at the Beverly Hills office of her former boss -- Dr. Arnold Klein.
Our sources say Rowe is there to visit Dr. David Rish, who practices in Dr. Klein's office. We're told she has an appointment.
Hear ye! Hear ye! Wethinks these paintings from Worth1000.com will fetch ye fancy -- so clicketh through 'n swoon at tis paintings done with the freshest of computer softwares!


TMZ's Crazy Pet Pic Contest -- The Finals!
Monkeys and mutts and mice ... oh my! These frightening photos flooded in for our Crazy Pet Pic Contest -- check 'em out ... these animals have faces only their owners can love.
Fiddy's Fortress -- Back on Da Market
50 Cent needs to wave his Magic Stick if he hopes to sell his Connecticut mega-mansion ... he just slashed the price another few million bucks in desperation.
Fiddy says he's fed up with the 2-hour, too long commute to New York City and wants to trade in the 19-bedroom, 37-bath pad for a cut down crib in the city -- it was $18.5 million, then $14.5 million and now it's only $10.9 million.
50 shelled out $4.1 million for the 17-acre estate -- but says he spent $6 million on urgent upgrades like a disco complete with stripper poles.
Whether these "Harry Potter" look-alikes really belong in Hufflepuff, Gryffindor, Ravenclaw or Slytherin is up to you -- but check out which celebs really had us seeing double double toil and trouble.
Far from the lavish zoo/theme park/mansion it once was, Michael Jackson's Neverland Ranch is now a barren, forgotten property that was once fit for a King of Pop.