"Dancing" with the Diva, the Best, the Worst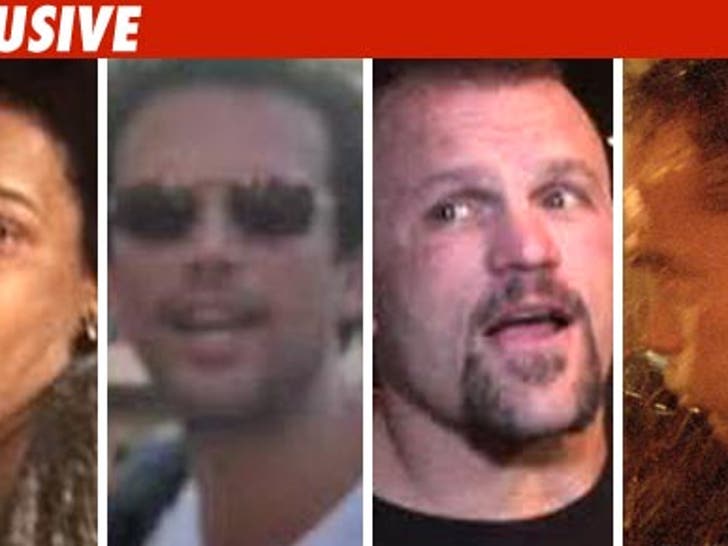 So every season of "Dancing with the Stars" TMZ puts its intrepid spies to work and this year they are on top of it as ever.
The Diva: Multiple sources on the show say Macy Gray is hands down the most difficult. As one source put it, "She doesn't want to be there" and she has "regrets" she signed on. Another source says she gets so frustrated she leaves rehearsal early -- once after only 10 minutes. We're told another time she blew off a rehearsal altogether. As that source says, "She's just going through the motions and doesn't want to be there."
The Worst: We're told Ashley Hamilton -- George's son -- is not only the worst, he's "painful to watch."
The Best: This one is tougher to call. We're told Donny Osmond, Aaron Carter and Mya are all contenders, but the big surprise is UFC legend Chuck Liddell. Our spies say he's really good and practices like a mutha. One source says he gets to practice early and shuts the place down, with 6 hour, uninterrupted power sessions. And get this -- we're told he's already lost 20 lbs.
The Most Fun: "Iron Chef" host Mark Dacascos by a mile. We're told he's endlessly entertaining, he's having a blast and he's using his martial arts skills to shake it up.
Chris Brown -- Just Throw It in the Bag
Roads in Richmond, Virginia are going to be a whole lot cleaner now -- but not necessarily safer -- because Chris Brown officially kicked off his 180 day hard labor sentence this morning with a little roadside cleanup.
Honk if you hate domestic violence.
Obama Caught on Tape Calling Kanye 'Jackass'
TMZ has obtained the audiotape of President Barack Obama calling Kanye West a "jackass" for hijacking Taylor Swift's acceptance speech during the VMAs.
The audio was recorded just before Obama went on camera to do an interview with CNBC. Before the interview began, Obama -- referring to Kanye's antics on stage -- said "I thought that was really inappropriate," then adding, "He's a jackass."
After making the remarks, Obama said "Where's the pool?" Presumably, he was worried the joke would go wide. He noted the last time that happened, he got burned for killing a fly.
Obama said, "Cut the President some slack."
Jackson Probe Coming in for a Landing
Law enforcement sources tell TMZ the Michael Jackson homicide case will be presented to the L.A. County District Attorney in 3 to 4 weeks.
We're told the lion's share of the investigation has been completed and Dr. Conrad Murray remains the singular target. Our sources say LAPD detectives have requested opinions from several medical experts who will analyze the evidence and offer their opinions on Dr. Murray's conduct.
The medical experts are supposed to submit their finding in 2 to 3 weeks and we're told detectives need an additional week to assemble their evidence before they make a formal presentation to the D.A.
Law enforcement sources also say an arrest will not be made before Dr. Murray is charged with a crime -- of course that assumes he will be charged.
The case is complicated by the fact that Jackson had been taking various medications, even though the evidence is compelling that Propofol was the direct cause of Jackson's death.
This adorable 7-month-old showed up to a golf invitational yesterday in New York -- but can you tell who his famous grandfather is?
Bobby Brown -- I'm Too Damn Fat
He's fat ... he's a media whore ... and he needs the money -- three solid reasons Bobby Brown is all set to do the next season of Celebrity Fit Club.
Sources close to the situation tell TMZ Brown is all signed up for the next season of the VH1 reality show -- along with several other "stars" ... including actors from "High School Musical," "Baywatch" and "The Practice."
We're not even sure that Brown was all that fat ... but it's his prerogative. Check out the gallery to see who else is gonna be gettin' fit with Bobby.
Little Orphan "Annie": 'Memba Her?!
A picture's worth a thousand words and with a flick of a few fingers these stars are voicing themselves loud and clear. See what message theses stars are sending!