Guess Who This Lil' Guy Turned Into!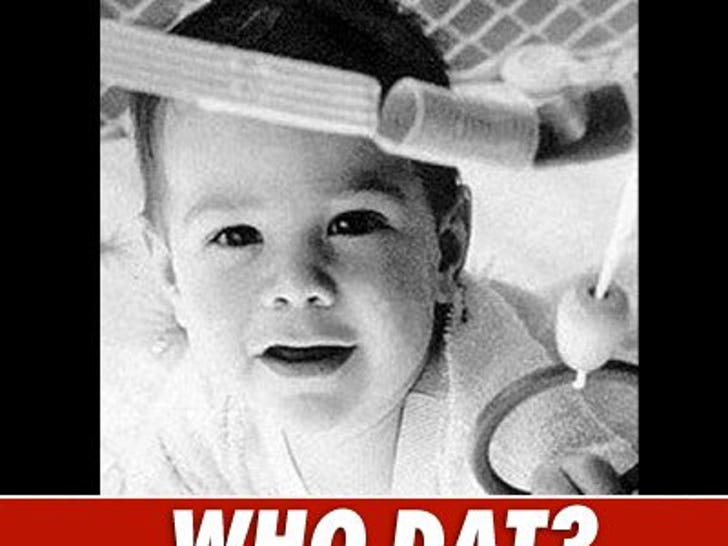 A picture's worth a thousand words and with a flick of a few fingers these stars are voicing themselves loud and clear. See what message theses stars are sending!
Levi Johnston -- No Palin, No Gain
We're not sure if he's gonna show his front or backside, but one thing's certain: Levi Johnston wants to make sure both sides look good for his upcoming Playgirl spread just in case.
Johnston's handler tells us the 19-year-old father of one is preparing for the shoot by hittin' the gym hard -- at least six days a week for the last three weeks -- with the help of a newly hired personal trainer.
Levi agreed to pose for Playgirl last month for an undisclosed amount ... but the real question is what he's willing to bare.
We'll find out soon enough -- the photo shoot happens sometime this month.
Can you guess which celebrity leading ladies gave birth to these cute kids?!
The Shadiest People in Hollywood
Accessories can make or break a look -- but the following spectacles can break even the biggest ego!
Fleiss Exploits Horrific Car Crash for Reality TV
TMZ has learned former Hollywood madame Heidi Fleiss survived a high-speed, window-smashing, Toyota-flipping car wreck back in June -- and then proceeded to make the whole thing part of an upcoming reality show.
Sources close to Fleiss tell us it all started when Heidi got into a fight with a castmate during a taping of "Celebrity Rehab" in Los Angeles. Heidi was so upset, she ditched the production and got a ride back to her home in Pahrump, NV. But during the trip home, the car swerved and hit a dirt patch, causing it to flip several times.
The Nye County Sheriff's Office -- located near Pahrump -- tells us Heidi wasn't driving when the SUV lost control ... but she was in the passenger seat and thankfully wearing a seat belt. We're told Heidi and her friend suffered some minor scrapes and bruises -- but essentially walked away with no serious injuries.
But here's the catch -- sources tell TMZ a camera crew showed up to the crash scene the very next day and shot the site for "Celebrity Rehab." In classic Hollywood form, we're told VH1 didn't want people on the show talking about the accident publicly .. hoping to keep the story arc on the down-low until it airs sometime in the near future.
A rep at VH1 had no comment.
Do you think you know which celebrity owns these chesticles? Take the beach boob challenge and test your mammary memory!
These avant-garde makeup artists need a second look in the mirror!
Where'd you get those peepers?