Simon vs. Ellen - They Don't Idolize Each Other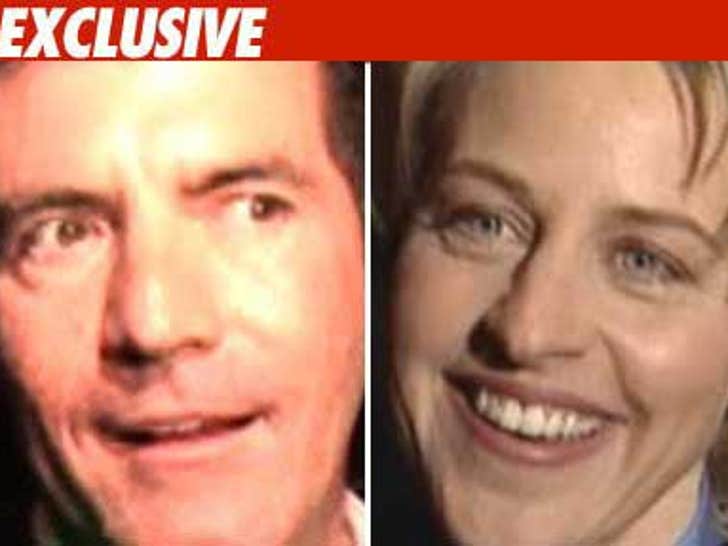 Simon Cowell and Ellen DeGeneres flat out don't get along, and the tension is building ... this according to multiple "American Idol" sources.
Our insiders say Simon and Ellen aren't even trying to hide it. Ellen can't stand what she believes is Simon's cruelty toward contestants. And, we're told, Simon actually enjoys pissing Ellen off with his blistering critiques.
People working on the show last night tell TMZ ... it was apparent on and off camera ... Simon's tolerance level for the contestants was at an all-time low, and he knew it was making Ellen uncomfortable but clearly didn't care. As one insider put it, "He was intentionally pushing her buttons."
It all started badly when Simon showed up late for Ellen's first week of "A.I." taping and made her wait around. Producers separated the two -- who began the season sitting side-by-side -- but the tension has gotten worse.
But business is business. "A.I." is beating the Olympics, and ratings for Ellen's show skyrocketed last week. In Hollywood, contempt has its upside.
Hollywood's Puppets and Muppets
Have some of LA's biggest stars gotten their signature look from a fuzzy friends?
Jayson Williams Can Score in Prison
Former NBA star Jayson Williams was taken to the clink this week after being sentenced to 5 years behind bars -- but there's an upside: The place has a b-ball hoop he can use to get in with the cool kids.
Jayson was shipped off to Hunterdon County Correctional Facility in New Jersey on Monday -- but we're told it's only a temporary home for Williams until he's transferred to more permanent quarters.
Williams has to serve at least 18 months behind bars before he's eligible for parole -- so hopefully the next place has a hoops court too.
Some stars are probably better off bald -- check out the celebs that are in on the cover up!
These stars are stuck with these tattoos forever and ever and ever -- or at least until they fork over enough cash to get 'em removed!
Can you guess which rocker busted out their tummy rug while sunning in Maui this week?