Gary C's Ex: 'He Would've Been Like Muhammad Ali'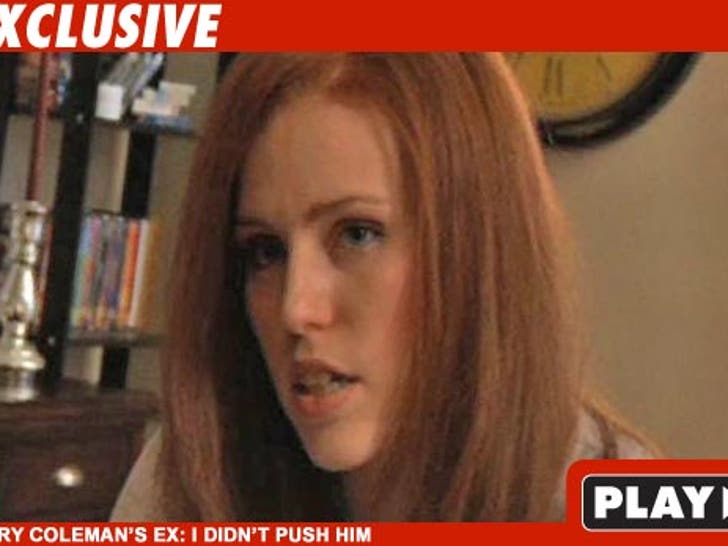 Gary Coleman's ex-wife Shannon Price is defending her decision to pull the plug on life support because she says she didn't want Gary to be like Muhammad Ali or Terri Schiavo. The comment is so offensive and wrong, it raises questions ... whether her decision to terminate Gary's life was appropriate.
TMZ obtained an interview with Price ... shot the day after Gary died. Among other things, Price blurted out that she's heard speculation that she pushed Gary and that caused him to fall and ultimately hemorrhage. Price insists she didn't push Gary -- a weird statement, since no one had publicly accused her of that.
Gary fell in his Utah home May 26, hit his head on the floor and suffered an intracranial hemorrhage. Shannon, who was divorced from Gary, apparently still had authority to terminate life support at the hospital, which she did on May 28 -- he died a short time later.
Police have said there was "nothing suspicious" involving Gary's fall.
Price fondly mentions that Gary did a lot for her -- like buy her a car.

Wanna Pick a Celebrity Belly ?!
Summer time is here -- which means it's time for the stars to flash more flesh -- but can you guess which celebs are the proud owners of these taut tummies?
Montag's New Malibu Heid-Out
Heidi Montag has put up some very expensive walls between herself and hubby Spencer Pratt -- as in this $5.5 million mansion in Malibu.
TMZ obtained these pics of the bachelorette pad where Heidi and her pal Jennifer Bunney will be living/videotaping this summer.
Whether her breakup from Spencer is real or fake -- this five-bedroom house is one helluva place for Heidi to rest her plastic assets while it all plays out.
How Do You Know This Woman?!?
This 35-year-old blonde beauty stepped out on a beach in L.A. yesterday -- but can you figure out which red-headed character she played back when she was 14?
Megan Fox --The Writings on the Pelvic Bone
This is her signature look.
Shady Celebrities -- The Ray-Ban Rage
A trusty pair of sunglasses are a staple in any celebrity's wardrobe -- and everyone seems to be relying on one trendy brand!
Check out which superstars are putting the Ray-Ban Wayfarer front and center!
Celebs in Swimsuits -- What a Beach!
Summertime is fast approaching -- and as usual, the biggest stars are already out rocking their bathing suit bods! Check out all the hot famous people in their teeny, tiny beach wear!!