Lindsay Lohan Sentenced to Jail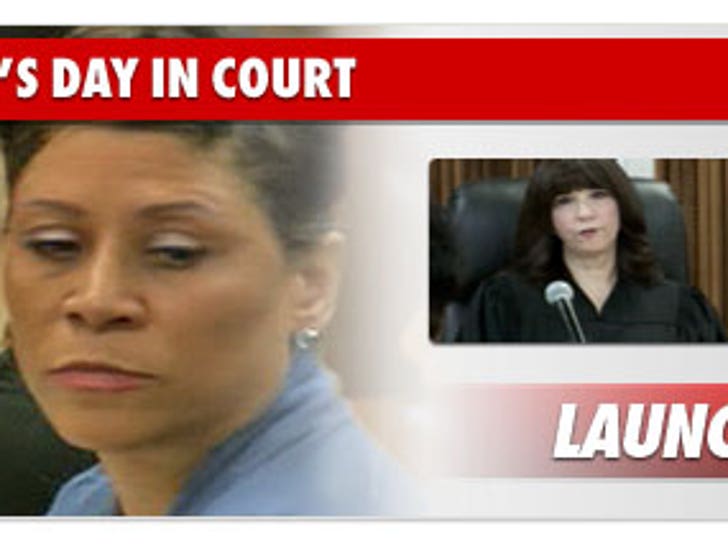 Lindsay Lohan was just sentenced to 90 days in jail for violating her probation in her DUI case, followed by a 90-day inpatient rehab program.
Judge Marsha Revel sentenced LiLo after an incredulous prosecutor, Danette Meyers, told the judge that Lohan has been thumbing her nose at the court.
The evidence was loud and clear today -- Lindsay violated probation by failing to attend her alcohol ed classes based on the schedule set by the judge. There were lots of excuses, but ultimately they didn't fly.
The judge said there was a pattern of violations since Lindsay was placed on probation in 2007 following her plea bargain in her DUI case.
Lindsay broke down as she addressed the court, telling the judge, "I did the best I could."
Lindsay dissolved into tears when the judge imposed the sentence.
Lohan must surrender on July 20 in Judge Revel's court.
UPDATE: Sheriff's spokesperson Steve Whitmore just explained ... generally, a female inmate in Lindsay's situation only serves 25% of their sentence ... which means LiLo will most likely spend 25 days behind bars.
Lindsay Lohan -- Begging, Pleading, Crying
53 seconds -- that's exactly how long Lindsay Lohan was able to beg for mercy in open court before she started to break down and cry.
Judge Marsha Revel allowed Lohan to address the court just moments ago -- and in between teary-eyed breakdowns ... Lindsay apologized multiple times and tried to explain why she missed alcohol education classes.
TMZ's Shawn Throwin' Objections Game!
Lindsay Lohan's lawyer -- Shawn Chapman Holley -- threw everything but the kitchen sink at prosecutor Danette Meyers today to try and keep LiLo out of jail ... and now it's your chance to fire off the objections for her!!!!!
It's simple ... just grab a hold of your mouse ... aim ... and fire away!!!!
Jackson Memorabilia Auction -- I'll Trade Ya!
This latest Michael Jackson auction has a unique twist -- the owner of the items says he got them from MJ himself ... by trading other memorabilia with the King of Pop.
The auction -- set for October 6-15, 2010 -- features several crazy MJ items, including a custom Swarovski crystal jacket and the gloves MJ wore on the cover of "Bad." Those two items, along with one of MJ's jackets, came directly from Michael.
Ed Kosinski, part owner of Gotta Have It!, tells us he actually traded MJ for the stuff. He says Michael had a thing for "Our Gang," Charlie Chaplin, Shirley Temple, Elizabeth Taylor, and other vintage Hollywood items.
The auction also features signed photos and authentic MJ lyric sheets.
Zack Morris -- A House Divided Cannot Stand
Mark-Paul Gosselaar's divorce was the most predictable thing on the planet -- because months before the "Saved by the Bell" star filed for divorce, he sold off the L.A. house he shared with his wife.
The 3,296 sq. ft. home in a swanky planned community has two bedrooms and two baths -- and based on our calculations, that means one bedroom for Zack ... and one bedroom for his wife.
According to the deed transfer docs -- obtained by TMZ -- Gosselaar and his estranged lady-partner signed over the deed to another couple back in March ... three months before the actor filed for divorce.
Here's to hoping the new owners have better luck than the old ones.
Singer John Cafferty: 'Memba Him?!
In 1984, John Cafferty and the Beaver Brown Band hit #1 with the song "On the Dark Side" from the film "Eddie & the Cruisers." Guess what he looks like now!


Holly Madison -- As American As Apple Pie
Nothing says America like a buxom blonde in a bikini by a pool for no reason at all -- to wit, we present to you Holly Madison at Wet Republic in Las Vegas.
Check out some of Hollywood's greatest stars dressed in their best red, white, and blue!
What's the Big Frigin' Difference?!
Listen up gum shoes -- get out your spy kit and spot the sneaky differences in the following photos!
**HINT -- There are THREE differences in the above photo!**