T.I. and His Wife -- Handcuffed and Busted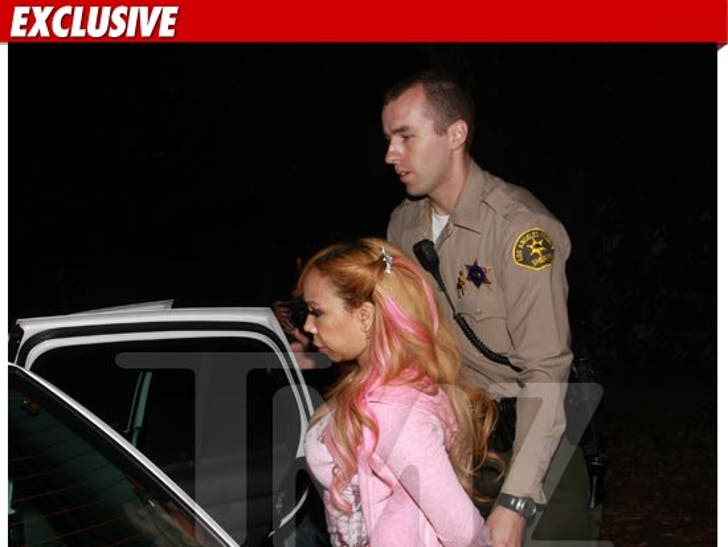 UPDATE: TMZ has learned ... cops originally stopped the Maybach for making an illegal U-turn on Sunset Blvd.
TMZ has obtained photos of rapper T.I. and his wife Tameka "Tiny" Cottle in police custody on Sunset Blvd. last night ... after they were each arrested for allegedly possessing a controlled substance.
T.I. was placed into a squad car with an unknown male.
"Tiny" was taken to a separate squad car -- both were transported to a local Sheriff's station.
As we first reported, cops pulled over T.I.'s ultra-expensive Maybach on Sunset Blvd around 10:18 PM for a traffic violation and then smelled marijuana. During a subsequent search of the vehicle, cops say they found a controlled substance -- we're told it was not cocaine. The class of the controlled substance that was found includes methamphetamines and ecstasy.
Both were booked on felony possession of a controlled substance.
They were released on $10,000 bail.
As we previously reported, T.I. was released from federal prison back in December -- where he served 7 months behind bars for illegally possessing machine guns and silencers.
Law enforcement confirms ... T.I. is still on probation from the gun conviction, which means last night's arrest could qualify as a violation of his probation ... and he could be sent back to prison.
UPDATE: "Tiny" just twittered, "Jus wanted 2say thank u 2every1 dats been leaving encouraging msgs & prayers! We love u guys:-)going 2bed now! So glad 2b n a nice clean bed."