Toni Braxton -- Bankrupt Again, May Owe $50 Mil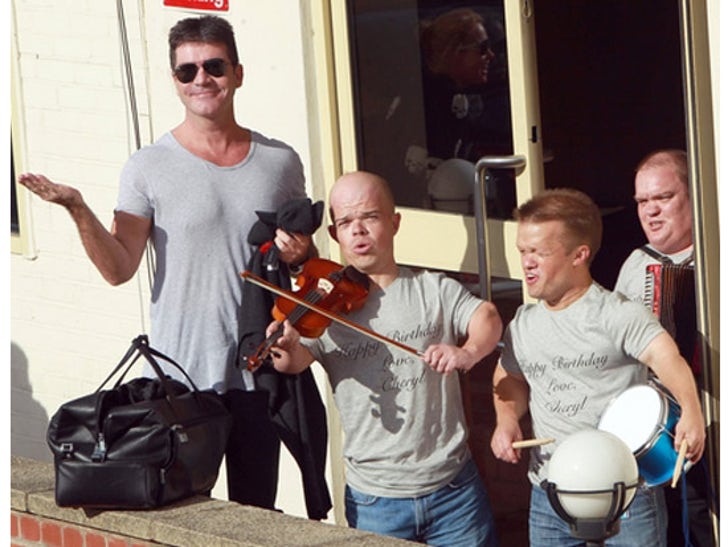 Toni Braxton has filed for bankruptcy again -- claiming she owes somewhere between $10 million and $50 million in unpaid debts all over the country ... including DMVs in TWO different states.
Braxton -- who sold more than 40 million albums in her career -- just filed for Chapter 7 bankruptcy in California ... and in the docs, the singer claims she's only worth somewhere between $1 mil and $10 mil ... but she could have up to $50 mil in debts.
In the docs, 43-year-old Braxton lists a ton of creditors to whom she thinks she may owe money... including:
-- AT&T
-- The Four Seasons Hotels
-- Cedars-Sinai Medical Center
-- Various medical bills
-- DirecTV
-- Neiman Marcus
-- The William Morris Agency
-- Tiffany & Co.
-- Orkin Pest Control
-- The Internal Revenue Service
-- BMW Financial Services
-- ADT Security
-- American Express
-- Flamingo Las Vegas
-- Mesa Air Conditioning
-- Nevada Power Company
-- Screen Actors Guild
-- The Westin
-- Wells Fargo Bank
Braxton also claims she may owe money to the City of L.A. Parking Violations Bureau -- and the DMV in both California and Nevada.
Braxton has a storied history of financial problems -- she filed for bankruptcy back in 1998 ... and earlier this year, the IRS filed a lien against her for $396k.
A close relative of Toni Braxton tells TMZ ... the singer's financial undoing can be traced back to her show in Las Vegas.
The relative tells us Toni took out "show insurance" through Lloyds of London for her act at the Flamingo Las Vegas Hotel and Casino back in 2007.
When Toni was diagnosed with a heart condition -- in the middle of the show's run -- she had to pull the plug, but she was still on the hook to the Hotel for big bucks. Toni expected Lloyds to cover the loss but Lloyds didn't, arguing Toni had a undisclosed, preexisting medical condition, rendering the policy void.
In the end, Toni had to absorb a huge loss, which the relative claims sent her on a downward financial spiral.
Toni Braxton showed up to the Dolphins game in Miami on Monday ... wearing some blinged out jewelry, a snakeskin bag and a pair of Louboutin heels which retail for over $800.
Simon Cowell's Birthday Surprise
Birthday boy Simon Cowell had a little surprise waiting for him today when he showed for work -- emphasis on the little.
When the now 51-year-old former "American Idol" judge pulled up to the "X Factor" set in the UK this morning, a band of singing little people greeted him.
They were all wearing shirts reading "Happy Birthday, Love Cheryl" -- as in "X Factor" judge Cheryl Cole.
What else do you get the guy who has everything?!
Tom Cruise's Body -- A Closer Look!
Tom Cruise proved he's still in top form yesterday in Prague, where he was filming some shirtless scenes for "Mission: Impossible 4" -- and now, we can get a closer look at that six-pack!
Click the photo to zoom in on the 48-year-old's impressive physique.
Justin Bieber -- He's a Kippah!
Justin Bieber threw on his finest yarmulke and went to the wedding of his musical director in Toronto over the weekend.
Oy, he looks so skinny. He should really eat something.
UPDATE: Bieber also joined forces with the groom (who played guitar) to rock "Baby" for crowd ... it's definitely worth a watch.
Ashley Tisdale -- The Vegas Bikini
It was 96 degrees in Vegas this weekend -- and Ashley Tisdale adapted to the heat by throwing on the tiniest bikini she owns.
Our friends at OfficialImage.com caught the "Hellcats" star takin' a dip at Wet Republic at the MGM Grand ... right around the time Avril Levigne was celebrating her 26th birthday.
FYI -- Avril was sans her kinda-sorta-maybe boyfriend Brody Jenner.
Johnny Depp Gets Jack'd Up
Johnny Depp was back on set today to resume filming on "Pirates of the Caribbean: On Stanger Tides" in London -- where we got a closer look what it takes to get him to look like Captain Jack Sparrow.
Depp arrived on set with his hair down, wearing jeans, a t-shirt and a plaid shirt -- but then re-emerged with his hair in braids ... which were then covered up with a wig.
Check out Depp's crazy transformation -- plus zoom in on some secret set shots!
What's the Big Frigin' Difference?!
Scrounge up your spectacles and see if you can find the hidden differences in the following photos!
**HINT -- There are THREE differences in the above picture!**
Can you guess whose handsome man mug got a nasty celebrity scramblin'?