Tyra Banks -- I Fear My 'Mentally Unstable Stalker'
Tyra Banks
I Fear My 'Mentally Unstable Stalker'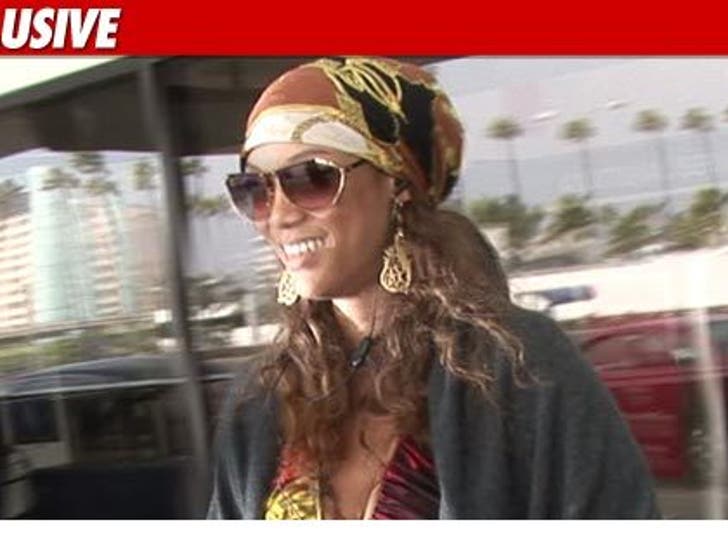 Tyra Banks is scared to death of a "mentally unstable celebrity stalker" who has allegedly bragged about killing "George Bush Jr." -- and now she's asking a judge for protection.
Tyra has requested a restraining order against 39-year-old Marten Williams, Jr. -- 6'2", 220 lbs -- claiming he has "targeted and harassed and stalked" Tyra and her family since 2006.
In the docs, filed in L.A. County Superior Court and obtained by TMZ, Tyra claims the man has a history of mental illness -- and that he believes "he killed George Bush Jr. and that Michael Jackson is alive and living in Long Beach."
Tyra also claims the man has left several "ominous frightening letters and items" at her Beverly Hills home -- including his prescription medication, L.A. County jail wristbands and note referencing a wedding ceremony set for 1/08/11... the day he believes he will marry Tyra.
In the docs -- filed by top gun lawyer Evan Spiegel -- Tyra states, "I am in fear from Mr. Williams for my personal safety, and that of those around me, including my family and employees."
Williams was just arrested earlier this month for trespassing on Tyra's property. Williams told cops he was bringing Tyra "offerings." He was later placed on a 5150 psychiatric hold ... but Tyra's people believe he may have already been released.
Tyra wants Williams to stay at least 100 yards away from her and her family -- fearing that Williams' conduct will "likely continue and escalate" unless the court steps in.
UPDATE: TMZ has learned ... Tyra was granted a temporary restraining order against Williams which is valid until October 28 -- when a hearing will be held to determine if the restraining order will become permanent.