Bobby in 'The Brady Bunch': 'Memba Him?!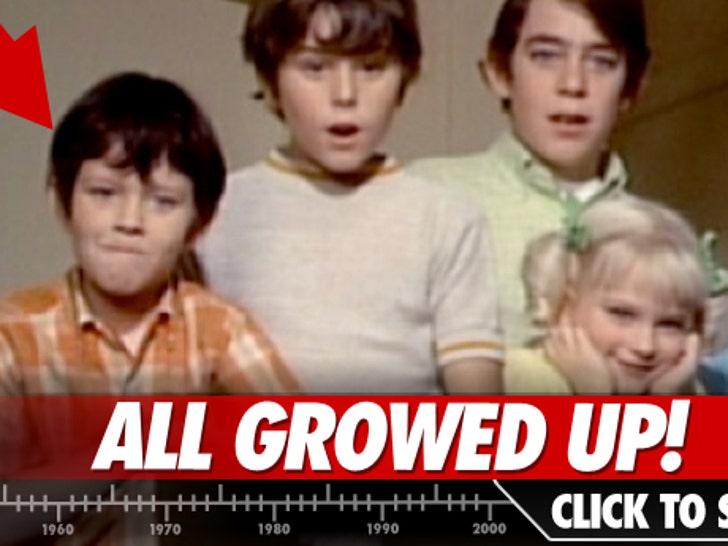 Harry Potter Kids: Then & Now!
The kids from "Harry Potter" have grown up right in front of our eyes -- going from the fresh-faced cuties of Hogwart's to full grown adults on camera!
Check out how the little wizards have matured over the past 10 years in preparation of the latest movie, "Harry Potter and the Deathly Hallows: Part 1," which opens this week!
Can you guess whose pretty puss got a gnarly celebrity scramblin'?!
Linkin Park -- Wailin' In Jerusalem
Linkin Park went off-the-wall on sacred ground recently -- stopping by one of the holiest places on Earth to pay their respects ... the Wailing Wall in Jerusalem.
As for the yarmulkes, most of the guys aren't part of the Tribe ... but it's considered customary to wear the headgear at the Wall.
FYI -- the band performed last night in Tel Aviv. Tickets were reasonably priced.
Ink'd Up Stars -- Zoom View!
Take an up close and personal look at your favorite celebrity tattoos -- but beware ... some tats are not meant to be seen in hi-def!
What's the Big Frigin' Difference?!
Things aren't always what they seem -- so see if you can find the subtle changes in these tricky pics!
**HINT -- There are THREE differences in the above photograph!**
Enrique Iglesias -- What's Good for the 'Goose'
While enjoying a night of Las Vegas debauchery -- Enrique Iglesias took pictures with fans (and not of his crotch) and poured Grey Goose vodka down a mystery man's throat at LAX last week.