Teddy on 'Full House': 'Memba Him?!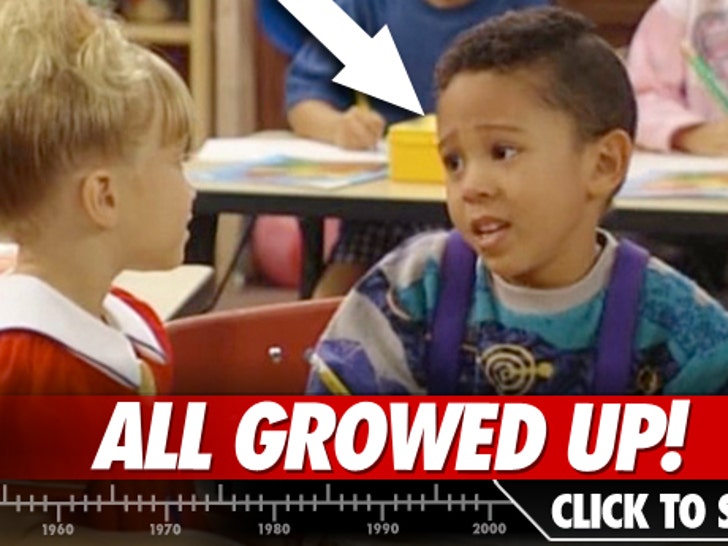 Queen Latifah & Olivia Wilde as Disney Villains!
Some big names are lending their famous faces to Disney -- with Queen Latifah, Jeff Bridges, Olivia Wilde, Alec Baldwin and Penelope Cruz all posing as some of the company's most beloved characters!
The shots, done by famed photographer Annie Leibovitz, are part of Disney Parks' 'Let the Memories Begin,' campaign.
Check 'em out -- plus some behind-the-scenes shots from the photo shoot!
Lil Wayne's New Ride -- DeLorean!
Lil Wayne went back to the future for a new music video with the help of a totally awesome DeLorean Time Machine.
The classic car is an exact replica of the iconic "Back to the Future" original -- even down to the flux capacitor.
On a related note -- when the hell is someone gonna invent a real life hoverboard already?
Sometimes being a superstar can be a real drag -- see which stars have crossed over to the other side.
Courteney Cox Shows Off Bikini Bod-- Kisses Co-Star!
The single life looks good on Courteney Cox!
Check out all the sexy shots!
Obama -- Ba-Rockin' Some New Hairdos!
With rumors swirling about Barack Obama possibly dying his hair -- we got to thinking ... there are so many COOLER things he could do to his 'do!
After all...isn't this the president who wanted change?
What's the Big Frigin' Difference?!
We've hidden some very sneaky differences in the following photos for you to spot -- good luck!
**HINT -- There are THREE difference in the following photos!**
Lady Gaga Walks the Runway in Paris Fashion Show!
Lady Gaga is now a runway model!
The singer made her runway debut moments ago in Paris at Thierry Mugler's fall/winter 2011 show -- and though some of the models almost fell over, Gaga worked it in some ridiculously high heeled boots!
And though she was overheard telling people backstage "If I vomit on the stage it would be good press," she thankfully didn't.
Gaga directed the music for the show -- which included a first listen at her song "Government Hooker" mashed up with her new single "Born This Way."
The Mugler fashion house is under the creative direction of Nicola Formichetti, Gaga's personal stylist.
Check out the video and photos from the show above!
Can you guess whose beautiful celebrity face was given a super celebrity scramblin'?
Can you tell which fully grown superstar just Twittered this photo of himself as a 5-year-old boy?