Guess Who This Kid Turned Into!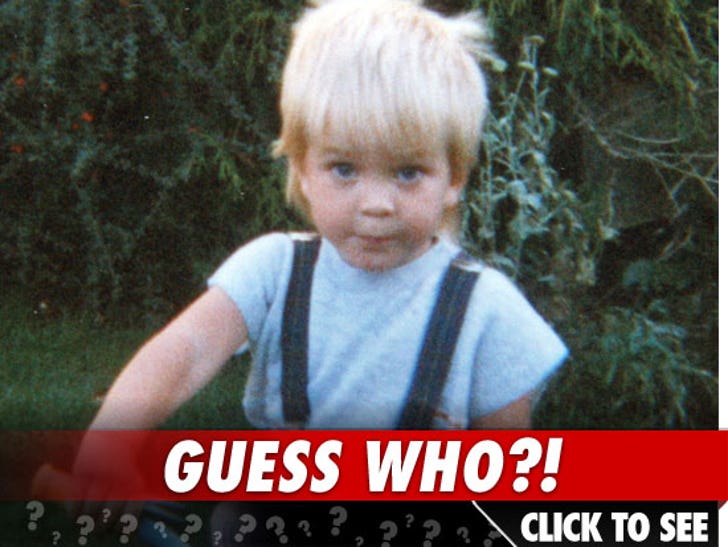 Before he was Hollywood's dreamiest hunk -- he was just another kid growing up in the suburbs of London. Can you guess who he is?
Victoria Beckham Shows off Her Baby Bump!
Victoria Beckham's belly is starting to get big!
The extremely petite star showed off her growing stomach while attending soccer practice over the weekend with son Rocco.
Not letting her pregnancy get in the way of style, Posh was still rocking 5-inch Christian Louboutin heels on the field.
Victoria, who already has three sons with David Beckham, is reportedly due this summer.
Beachin' Man Bods -- Guess Who!
If you're looking to turn up the heat -- try matching these pecs and abs with their hot celebrity owners!
These six-packs are calorie free!
Stars Celebrating Memorial Day!
With Memorial Day arriving in Los Angeles with sunny weather yesterday, stars were all over the beach enjoying the day off!
Check out all those sightings and more above!
Snooki in Custody After Cop Car Crash
Snooki was taken into custody in Florence, Italy on Monday after crashing into a police car ... TMZ has learned.
Snooki was driving when she struck the cop car, but sources connected with the production tell TMZ, "Zero alcohol was involved."
We're told no one was injured.
A witness tells TMZ, Snooki smacked right into the back of the patrol car, wedging her ride between the car and a highway protection wall. The witness says Deena was in the passenger seat at the time of the crash -- and when she tried to exit the car, she had to go through the window ... because the door was blocked by the wall.
A source connected to the production tells TMZ, although Snooki is in custody ... it is not a formal arrest.
Memorial Day has come and gone -- and while the day commemorated the men and women who died serving our country -- it also marks the kickoff of the summer vacation season!
Courteney Cox ,Halle Berry, Julianne Hough and more -- see which stars have already hit the beach this year to swim, tan and surf.
Check out the gallery above ... and then get yourself to the beach!
Take a look at this scrambled picture... can you guess whose famous face it is???