Ryan Dunn PICTURED Before Fatal Crash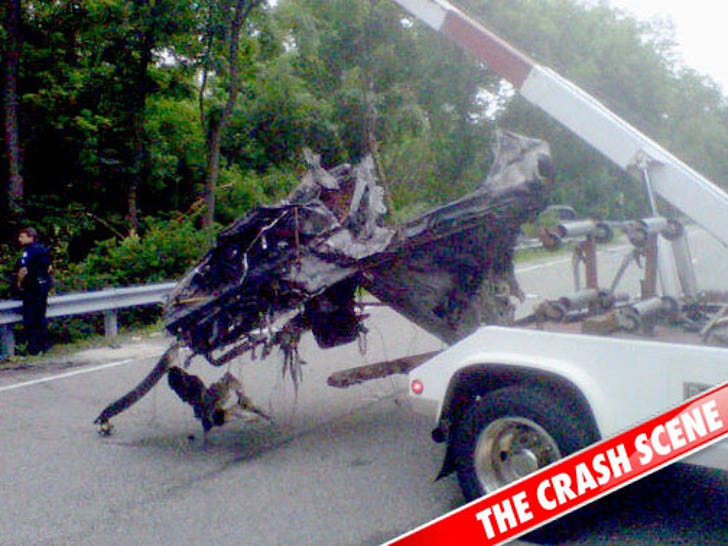 Roughly two hours before "Jackass" star Ryan Dunn crashed his Porsche and died Monday morning ... he posed for pics with fans in a Philly-area bar ... glassy-eyed and flushed.
The pics show Ryan and his friends drinking at around 1 AM at a bar called Barnaby's of America in West Chester.
After downing at least 3 beers and 3 shots in 4-hours ...Ryan hit the road in his Porsche 911 GT3.
At around 2:38 AM, Ryan crashed -- killing himself and an unidentified passenger.
Officials later identified the passenger who was killed in the fatal crash as 30-year-old Zachary Hartwell ... a friend who had been hanging with Dunn at a Philly-area bar earlier in the night.
Cops say both Dunn and Hartwell (pictured above right) both died as a result of injuries sustained in the crash around 2:38 AM Monday morning.
Sources who were at the bar with the two men tell us Dunn had intended to drop Hartwell off at his home ... and then Dunn planned to hang out with another friend after that.
The Coroner's Office just released the autopsy results for both men -- who, we're told, were each dead by the time officials arrived at the scene.
Based on the autopsy results, the crash was so violent, it seems it was impossible to determine if the two died from the impact of the crash itself or from the fire that resulted.
Officials say the toxicology results for both men -- which would help determine the role alcohol played in the crash -- will be released in 4 to 6 weeks.
Margera RIPS Ebert -- SHUT UP About Ryan Dunn
Bam Margera is FURIOUS with Roger Ebert -- telling the the movie critic to shut his "fat f**king mouth" over a tweet Ebert posted yesterday, criticizing Bam's friend and "Jackass" co-star Ryan Dunn for drinking and driving ... just hours after Dunn passed away.
After TMZ posted the story that Dunn was seen drinking at a Philly-area bar before his fatal crash, Ebert posted a tweet that read, "Friends don't let jackasses drink and drive."
After a day of silence, Bam finally went to his Twitter to BLAST Ebert late Monday night ... saying, "I just lost my best friend, I have been crying hysterical for a full day and piece of s**t roger ebert has the gall to put in his 2 cents about a jackass drunk driving and [he is] one, f**k you!"
Bam added, "Millions of people are crying right now, shut your fat f**king mouth!"
Roger Ebert later posted on his blog he "was probably too quick to tweet" about the car crash that killed Ryan Dunn yesterday ... explaining that his post was "not intended as cruel."
First Day of Summer -- Beach-Ready Stars!
Today is the first official day of summer -- and to mark the occasion, we're checking out which stars are ready to hit the beach!
Check out who can't wait to hit the sand and surf!
These handsome men got a special Father's Day shout-out from their famous celebrity spawns... but can you guess which stars call these dude's dad?
Tom Cruise Shirtless in 'Rock of Ages'
Tom Cruise will star as a hair band superstar in "Rock of Ages" -- and we got our first look at him in all his shirtless rocker glory!
The film's director, Adam Shankman, posted the above photo on his Twitter, with the message "Ladies and gents: first look at tom cruise as stacee jaxx! First day of shooting!"
It sounds like last week was actually Tom's first day on set, with Shankman also saying he filmed a scene with Def Leppard. Click the pic to zoom in on Tom's tattoos.
While Tom just started -- shooting actually started last month -- with co-stars Julianne Hough, Diego Boneta, Alec Baldwin and Russell Brand all spotted on set.
Check out all the behind-the-scenes shots!
What's the Big Frigin' Difference?!
We've snuck in some subtle differences into these celebrity photos -- can you spot 'em?
**HINT -- There are three differences in the above photographs!**
Holly Madison on Crystal Harris' Party: 'A New Low'
Crystal Harris spent what would have been her wedding day to Hugh Hefner by partying by the pool with Heidi Montag -- and Holly Madison isn't too happy about it!
"That's a new low!!" Madison wrote on her Twitter Saturday as photos surfaced of Hef's runaway bride reading her new Playboy by the Wet Republic pool. "That's disgusting and whoever booked her is tacky!"
When another Twitter user asked whether a reality TV crew would be following Harris, Madison added "trust me, NO ONE is interested in filming Crystal! She left Lifetime high and dry while filming a 2 hour special!"
Looks like Harris took notice, Tweeting "Hard times show your real friends..." to which Holly replied "No. They show HEF's real friends."
Air Guitar Championships -- Shredding with the Stars!
The greatest pretend musicians in all the land gathered in NYC last week for the 2011 Air Guitar Championships -- and what they lacked in instruments, they made up for in CRAZY!!!!
With classic power moves like the famous drop to the knees, teeth picking and even the behind the back -- it's obvious why these imaginary shredders made it to the top!
For those about to rock...