NBA Commissioner Wants to Legalize Betting to Line His Own Pockets ... Says Fired Ref
NBA Commissioner
Wants to Legalize Betting to Line His Own Pockets ... Says Fired Ref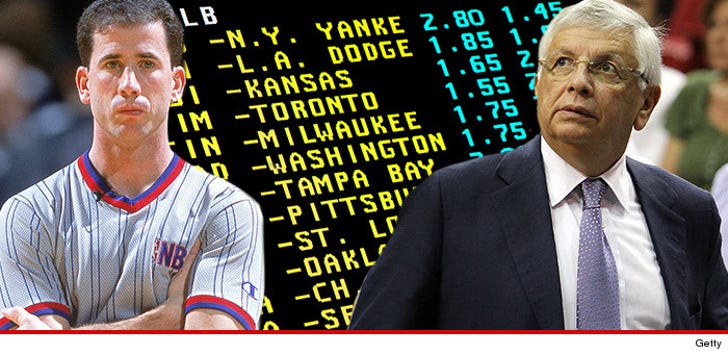 Exclusive Details
NBA commissioner David Stern is secretly launching a campaign to legalize betting in pro basketball in order to profit off people's gambling habits ... this according to a ref who was fired for fixing games.
We spoke with disgraced ex-ref Tim Donaghy -- who was sentenced to 15 months in prison back in 2008 for betting on games he officiated -- and he says he's suspicious about Stern's new stance.
Stern was on WFAN New York this week, and said he believes betting on NBA teams -- and all pro sports -- will be legal in all 50 states in the near future, but added new laws are needed to regulate the gambling.
Donaghy tells TMZ Sports, Stern is "finally picking his head out of the sand because he smells dollars."
According to Donaghy, the commissioner wants gambling legalized everywhere so the league can cop a percentage of the action. He adds, "Integrating gambling means a lot of money for everyone."
Listen to Stern's comments ... while it might not be fair to say that's his motive, it's also hard to deny the potential for a financial windfall.
Multiple calls were placed to the NBA for comment ... so far no word back.