Floyd Mayweather -- I'M NOT A WOMAN BEATER ... She's Been Lying for Years
Floyd Mayweather
I'M NOT A WOMAN BEATER
She's Been Lying for Years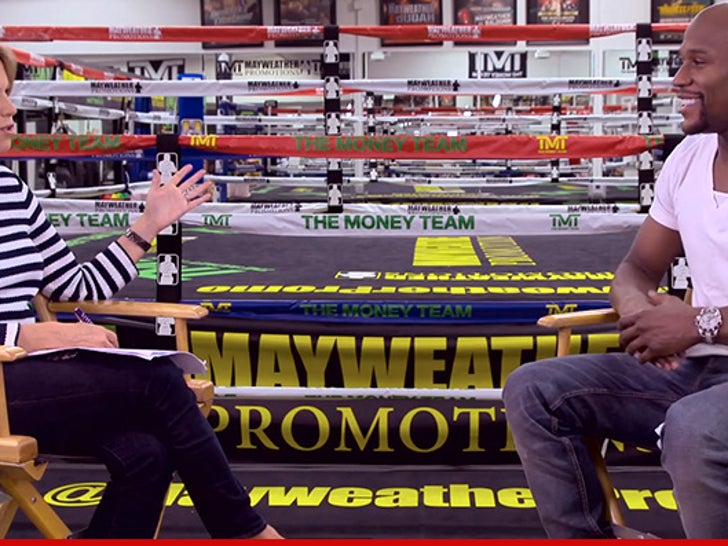 Floyd Mayweather says he did NOT beat the living crap out of his baby mama in 2010 -- despite the fact he was CONVICTED -- claiming the woman has been lying through her teeth for years.
Mayweather -- who did 2 months behind bars for domestic violence -- spoke with Katie Couric and vehemently denied the allegations that were spelled out against him in the police report.
FYI -- both Josie Harris and her son told police Mayweather terrorized her at their Vegas home in Sept. 2010 ... punching and kicking Harris. She was hospitalized for injuries to her face and arm, and cops took photos of the damage.
Despite all of the evidence, Mayweather says all he did that night was "restrain" Harris ... who Floyd claims was high on drugs that day.
"Did I kick, stomp and beat someone? No, that didn't happen," Floyd said ... telling Couric, "I look in your face and say, 'No, that didn't happen.'"
"Did I restrain a woman that was on drugs? Yes, I did. So if they say that's domestic violence, then, you know what? I'm guilty. I'm guilty of restraining someone."
Ultimately, Floyd says there were THREE other factors that contributed to his arrest and conviction -- "I'm black. I'm rich. And I'm outspoken. Those are three strikes right there."